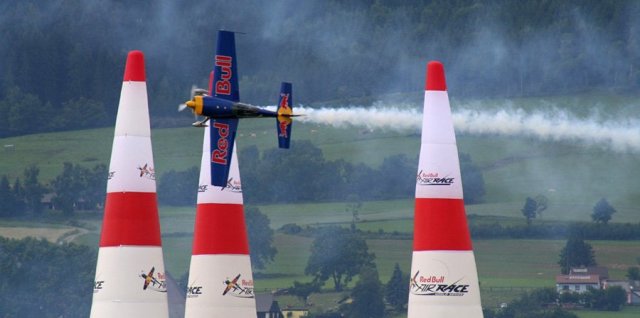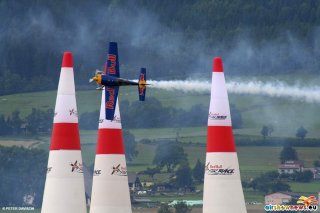 The Zeltweg air show always gives the opportunity to catch up with a large proportion of the Austrian air Force with photo opportunities in a natural green amphitheater and a southern viewpoint giving good lighting conditions. this year the show was well supported by Red Bull who not only brought their growing collection of vintage aircraft but also staged a demonstration air race complete with inflated pylons.
Held on a Friday and Saturday the second day crowd was estimated at 160,000 with car parks filling up well before lunchtime. The weather forecast suggested heavy thunderstorms and high humidity. Although very wet in the local area the show site escaped the worst though mist and rain often hovered in the surrounding hills.
The on base Zeltweg museum provided a useful shelter when the rains did arrive. The need to accommodate such large numbers meant that many of the static aircraft were cramped by fencing and people but the long flying display made up for this shortfall.
On previous shows there have been a lot of visiting air forces, particularly from the Balkans and former eastern block, it is assumed that the financial crisis reduced the turn out but the varied exhibits and many display teams made sure that the crowds were not disappointed. Teams came from Poland, Turkey, Switzerland and Croatia, the transport highlights included a DC-2 and DC-6 and of particular novelty was the display of two amphibians, the Catalina and Dornier 24ATT.
The Austrian forces only showed a two ship Eurofighter display though the 'interception' of a rogue Hercules was an interesting variation. the programme had suggested a four ship but, apparently, only two Austrian pilots are formation qualified at this time. apart from one in static, the enthusiast had to work hard to track down additional examples in various hangars. The Austrian Air Force uses many helicopters and many were in evidence including a tight four ship of Jetrangers. the centrepiece was an aerial fire=fighting demonstration with Turbo Porters, Blackhawks, Hueys and Allouettes dropping water and two Blackhawks showing heli-logging, a real novelty. additional items included warbirds and precision gliding ensuring a varied programme for the family audience.
2009 marks the centenary of Bleriot's crossing of the English Channel, this was celebrated by a flying replica performing tight turns over the airfield, a marked contrast the Eurofighter in both noise, cost and performance.