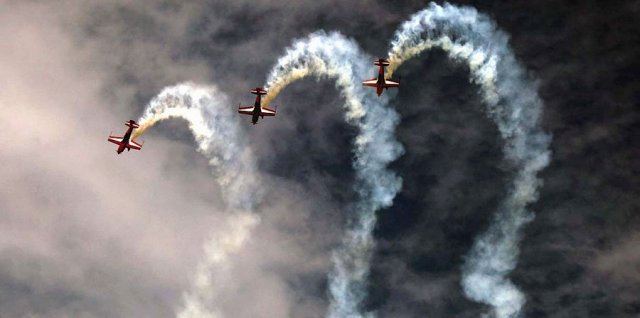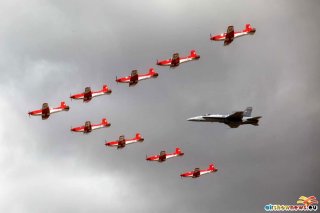 RIAT 2009 went ahead despite the wet conditions, on base parking for 'Park and View' and 5km of metal roads help relieve the pressure on the car park fields. A sell-out crowd in excess of 160,00 enjoyed a weekend of flying involving 269 aircraft from 33 air arms representing 22 counties.
Saturdays weather stayed dry but a mixture of low clouds and blue skies gave the display pilots a challenge to make best use of the changing conditions through their display.
One of the highlights of the show for the crowd was the return of the Vulcan to this years display circuit, a close call with its CAA Permit to Fly only revalidated on Friday 10th. With the B52 also displaying the crews took the opportunity to meet up and compare notes.
Another aircraft making its debut to RIAT was the French Air Forces Rafale now in squadron service and putting on a great display for the show.
The themes for this years event were Sea Search, 60th anniversary of NATO and 100 years of Royal Navy involvement in flying. Aircraft involved included two Nimrods the MR.2 version of static display and the MR4 version making a flypast.
With the appearance of an Algerian Air Force C-130, Algeria become the 51st country to participate at the Air Tattoo.
The Fleet Air Arm were the centre of the flying display with a flypast of 40 rotary wing and fixed wing aircraft.
Despite a smaller list of participants than previous years the crowds left having seen a great day of flying.