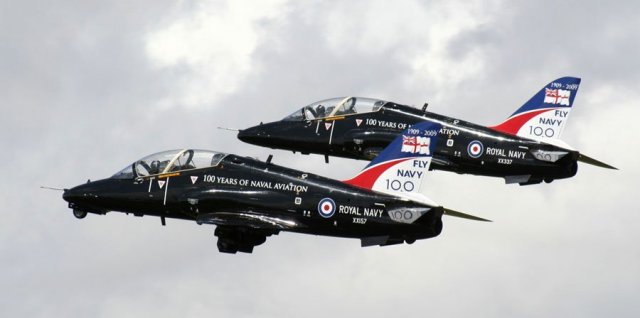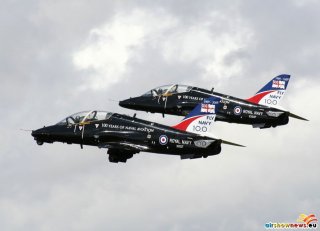 After the cancellation of the 2008 event due to water-logging of the site, particularly the car parks; this year's team had taken every precaution; doubling car park space off site and allowing some on airfield parking for the first time since 9-11. It was very successful though the allocation of ramp space, the recession and military commitments elsewhere reduced participation by some air forces.
Saturday was by far the best weather day with the event sold out. This year the main themes were 60 years of NATO and the centenary of UK Naval Aviation but the presence of the mighty Avro Vulcan must be singled out as the main attraction. It did not disappoint, though the display was not quite so dramatic as those when it was in service, for very good reason. Another debutant was the Swiss PC-7 team and a French Air Force Rafale in the flying display that certainly gave the Hornets and Eurofighter tough competition in the fast jet contest.
The navy celebration consisted of a mass flypast of Merlins, Sea Kings, Lynx and Squirrel helicopters accompanied by Jetstreams, Falcon 20s, Hawks and Harriers. This was complemented by the more pedestrian trainers, Chipmunks, Grobs and powered gliders. Unfortunately the Historic Flight Swordfish is not yet airworthy so the historical aspect was absent.
Other display teams present were the Frecce Tricolori and Red Arrows. The star specials in the static display were a specially marked CN295 from Brasil on the 'sea search' theme and the Algerian Air Force Hercules, a new nation for the Tattoo. Furthest travelled was a Boeing 757 of the Royal New Zealand Air Force that gave an exciting low level display in bright light against the all too common grey sky.
Given the international situation this still remains the world's premier military airshow maintaining continuous action for its massive and supportive audience.