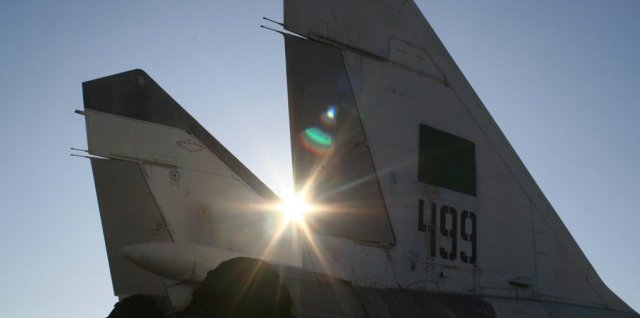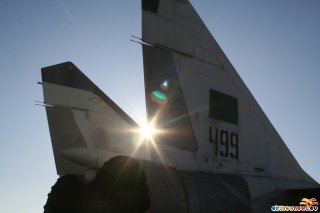 The Libyan Aviation Exhibition, LAVEX 2009, was held at Mitiga Air Base in the eastern suburbs of Tripoli from 5-8 October 2009. This years show was coincident with 40 years of Colonol Gaddafi's leadership so the city was covered in banners and green flags. There have been numerous celebrations, though the hoped for boost in military presence at the airshow was not apparent. Glorious weather meant that the morning flying, on the NE-SW runway was into sun so photographers, of which there were many, either had to migrate to the beach or wait for the late afternoon. At times it seemed that Dutch and British enthusiasts outnumbered the delegates.
The main military flying was limited to Su-22, L39, SF260, MiG-23, Mirage F1 and Rafale plus a few helicopters. The Hind and Mi-14 being particularly interesting. Foreign participation was mainly French and Italian. the locally based fleets of Antonov 26s and 32s were active along with those Il-76s not stored or derelict at the International airport.
Unfortunately a solo MiG-23UB, 8423, lost control after a flypast and crashed just outside the boundary on Wednesday morning with both crew failing to eject; thankfully there were no further fatalities on the ground. Flying was suspended until the early evening though the rich lighting at that time seemed to brighten the sombre mood. The now to be expected routine from the Rafale heralded a celebrity welcome as it taxied into its static position surrounded by eager families.
The airfield is also home to an Antonov rework facility, helicopter squadrons flying and storing Mi-8s and Mi-14, both ASW and fire-bombing variants. There are various stored airframes, Let 410s and L-39s in addition to the MiG-23 squadron but all official attempts to visit these areas were politely declined. The event area was not fenced securely but soldiers and ramp staff 'shepherded' visitors to various degrees to control the visitors. Health and safety around aircraft movements were, shall we say, exciting and surprising, very different from western airshows.