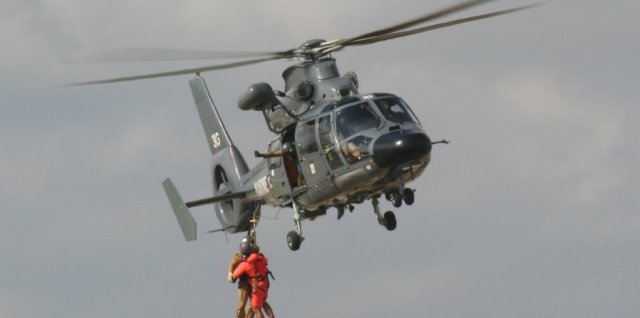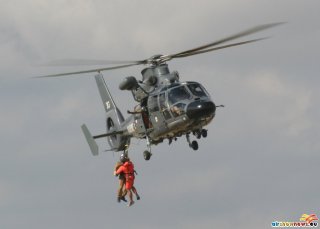 This centenary provided an opportunity to stage one of the finest military airshows France has seen. On 13th June, not only did the base at Hyeres open its doors but three aircraft carriers, from Spain, France and the USA, anchored off in the bay near Toulon providing extra items for the show. The flying display was roughly chronological so the real noise and excitement enjoyed the late afternoon sun with the crowd to the west this was excellent for photography. Most exhibits launched toward the crowd before displaying over the south-north runway.
Many types that do not normally perform flying routines made it an unforgettable show. The Hawkeye and Etendards, rare enough in static, flew numerous passes and configurations. Seeing an Avenger in European skies was also a welcome novelty. Rotary types were well represented with a trio of Allouette Threes, nearing retirement and examples of Lynx and Sa365N on view. Foreign air arms were represented by Harriers, Merlin and Jetstream from the UK, Harriers from Italy and Spain and a four-ship of Super Hornets from the USS Truman supported on the ground by an SH60, Greyhound and Hawkeye.
Mass catering was sensibly kept away from the static display but close enough to watch the action, perhaps the only criticism was the limited space for visitors to watch the show which meant the static display and walkways were very crowded. With the flying exhibits fenced and in view a good view of these aircraft was had by all. With the carriers all launching aircraft they naturally kept a fair distance offshore but this international collaboration, at a time of tension and economic considerations, the organisers are to be congratulated. The surprise arrival of an A380 near the end was, naturally, a thrill for the local population..