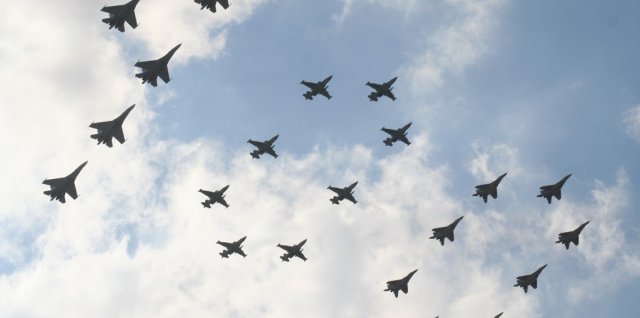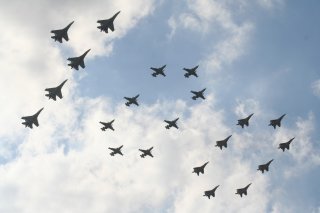 This spectacular event was to be the highlight of the Summer of 2012, even though the numerous Air Forces announced in the pre-publicity failed to arrive in any quantity. Had they arrived then I know not how they could have been fitted into the schedule.
The highlight of the long flying display were the flypasts; not just a one pass opening but a sequence of groups spread through the day; each dedicated to a different aspect of the service. The bomber force, the trainers, the transports, the helicopters and the trainers all participated with a long session in the morning dedicated to vintage warbirds, many of which had travelled from the rest of Europe.
Most impressive was the sound of the giant Antonov 22, flying apart from the other transports ranging from the An-2 to the Il-86 and An-124.
The whine of these counter-rotating turboprops is unique, almost worth the long journey in itself. The bombers included three examples of each of the Tu-22, Tu-95 and Tu-160; rarely seen in quantity, even at the MAKS exhibition.
To set the centenary theme in motion we were treated to a mass formation of Flankers, Fulcrums and Frogfoots writing '100' in the sky which repeated at shows end. This was flown with precision though a little high. A separate formation of nine Frogfoots trailed the National colours.
Some foreign teams did participate, the Midnight Hawks from Finland, The Frecce Tricolori from Italy and Britain's Red Arrows. A French Rafale performed brilliantly but was naturally out-turned by the Flankers that point and pivot on their own axis as they engage and cancel the vectoring nozzles in what appears from the ground to be a flat spin.
Some non-Soviet types were present, a Hurricane, Catalina, Mitchell and DC-3 were somehow out of context against the regular Zhukovsky backdrop of Il-76s and Mil helicopters. A compact static line contained examples of most current Russian types which provided good opportunities for well-lit photography. Unfortunately, as is always the case here, all the flying is against the sun and bright sky.
The national display teams; the MiG-29s of the Swifts and the Sukhoi 27s of the Knights had very long displays, commencing with a combined routine where five Knights grouped with the four Swifts which ended with a beautifully smooth separation prior to individual displays. Numerous flares were ejected during the display lighting up the horizon.
All in all an event that will dwell in the memory for ever; many Nations would have difficulty matching the fire-power shown in this display, let alone the capability of the forces from which they were drawn.