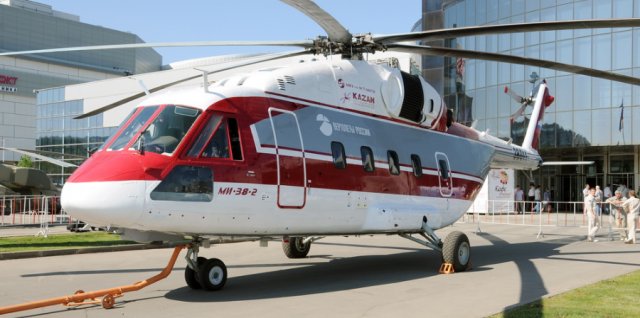 The 7th International Exhibition of Helicopter Industry, HeliRussia-2014, was held in Moscow between the 22nd and 24th May. Once again the Crocus Expo Centre opened its doors to exhibitors and guests from different countries of the world. This time HeliRussia became a meeting place for 212 companies from 20 countries engaged in the design, manufacture and operation of helicopters and associated equipment.
The static exhibition included 21 helicopters manufactured in Russia and abroad. The Russian part of the display was dominated by the Russian Helicopters holding company which presented two 'live' machines outside the building – a Mi-28NE attack helicopter, now in squadron service with the Russian Air Force, and the Mi-38-2 multi-purpose medium helicopter with indigenous engines which is to enter production in the near future. Inside the hall one could see the Ansat multi-purpose light helicopter in the ambulance version. Other important types were represented by models.
Exhibits supplied by foreign participants included a model of the AS 350 light helicopter, a product of Airbus Helicopter s (formerly Eurocopter). This type has won favour with many Russian operators due, in particular, to its versatility. Russian Helicopters and AgustaWestland displayed an example of the AW 139 multi-purpose helicopter assembled in Russia at their joint venture enterprise in Tomilino. US helicopter manufacturers were represented by Boeing Helicopters (MD-520), Bell Helicopters (Bell 429 and Bell 407JX) and the popular breed of light helicopters from Robinson (R22, R44 and R66).
As usual, much space was allotted to helicopter engines. These included the new 3,000-shp Turbomeca RTM 322 turboshaft, the VK-800V and VK-2500 turboshaft engines from the Russian United Engine Corporation and, not least, the varied assortment of engines from the important Ukrainian manufacturer Motor Sich whose participation seemed to defy the shadows cast by the present-day political tensions.