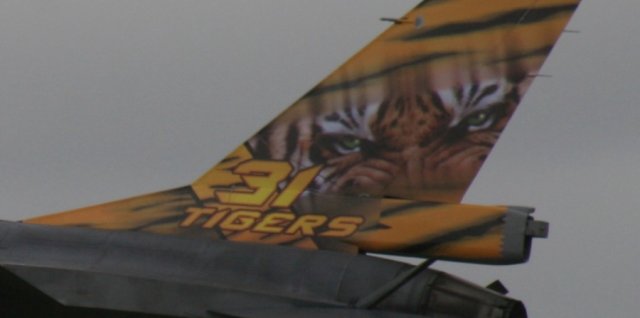 Each year the NATO Tiger Meet brings together as many squadrons as possible that include a 'big cat' in their squadron motif. Over the years the development of weatherproof adhesive vinyl has allowed more innovative and complex colour schemes to be applied to 'Tiger' aircraft and inspired squadron 'artists' to run riot in demonstrating their creative skills.
This year's meet in Germany was no exception with particularly dramatic designs on the Czech and Hungarian Gripens and French Rafale being particularly welcome among the regular visual feast of F-16s and Tornado. Of particular note was the formidable overall tiger striped German Typhoon.
The camouflage opportunities offered by these colour schemes have yet to be fully exploited; one wonders if a grass or shelter inspired scheme would be effective on the ground even though it might be highly visually disruptive once airborne.
As usual, the organisers placed the photographers compound beside the main taxiway allowing excellent coverage before and after the flying missions and are to be congratulated on their pre-event registration and organisational skills. It is a shame that these exotic birds of paradise rarely make appearances at other shows but, maybe, that's what makes the Tiger events so unmissable.
This year's attendees came from France(Mirage 2000 & Rafale), Germany (Typhoon and Tornado), United Kingdom (Merlin), Poland (F-16), Czech Republic (Gripen, Mi-171 and Mi-35), Hungary (Gripen), Netherlands (F-16), Turkey(F-16s), Austria (Saab 105), Switzerland (F-18), Belgium (F-16). Various support aircraft visited nearby Hohn and some Portuguese F-16s made a brief festive visit.