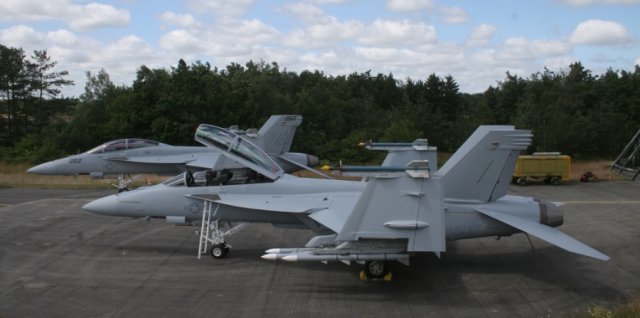 Karup is home to a flying school and the RDAF Helicopter Wing flying predominantly the T-17 Supporter and AS550 Fennec respectively. Also co-located are ESK722 with the AW101 Merlin and ESK723 with the Westland Lynx often detached to service ships. Many examples of all these were made available for viewing.
The 'spottersday' principle is now well established in Europe, raising funds for charity and taking advantage of the huge enthusiasm shown by military photographers away from the clutter more normally found at totally public events. Although Karup has three separate locations on base a bus tour system allowed safe access to all three for the athletic and time conscious visitors who wanted to see everything on offer.
Surprise visitors were the Omega tanker and two American Super Hornets, possibly in Europe for the upcoming Farnborough Airshow, which were shown in a shelter area allowing spectacular photographs from the surrounding embankment. Although Karup is not a fighter base the airshow was treated to a nine-ship F-16 flypast from Skydstrup Air Base adding the sound of freedom to this tranquil region of Denmark.