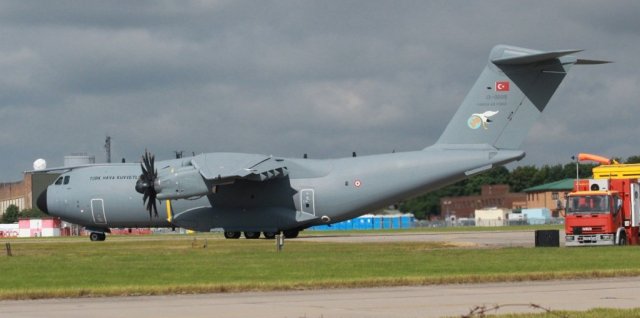 Being held a week before the Royal International Air Tattoo and Farnborough week paid handsome dividends for this year's airshow. the United states Navy P8A Poseidon being due to appear at all three events.
Waddington's organising committee are to be congratulated on attracting further visitors; in particular the Solo Turk F16s and a Turkish Navy Casa 235. A bigger bonus was the Turkish air Force A400M transport that arrived in support though it could not stay for the show days. Italy also did themselves proud with a KC767 tanker, C27 Spartan plus civilian examples of the Siai SF260 and a very rare Piaggio 166. The other well represented nations were the Swedish Historic Flight with the Draken, Viggen and Saab 105 and the first UK appearance of the Spanish air Force helicopter display team with six EC130s from their Granada base.
These were the military highlights for the photographers though the RAF brought some Typhoons from nearby Coningsby, one in the D-Day invasion scheme and a Tornado. As is often the case in these days of military cutbacks, numbers were swelled by numerous civilian types, both jets and piston singles making the static line more reminiscent of a country fly-in than a military event. The new recce asset, a modernised RC135 'Rivet Joint' stayed on the far side and the new King Airs naturally stayed locked away from prying eyes.
Swiss, Danish and German fighters added to the flying display and, on the Friday arrivals day, it was good to see the B17G arrive along with a good selection of military helicopters.
The only downside following the well-organised arrivals days was a midweek decision not to sell admission tickets on the gate at the weekend. the lack of notice and poor advance publicity for this created a nightmare for police and staff; as well as the un-ticketed public as many of the arriving cars were turned away in the queue. This was a PR disaster, particularly for locals who are used to waiting for the best weather day and then just turning up.
Hopefully a more sensible arrangement will be in place well in advance of next years eagerly awaited airshow.