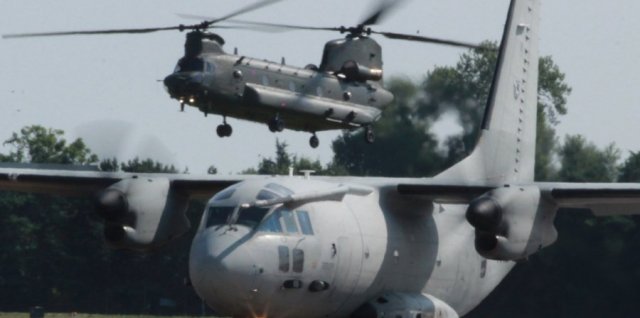 On even numbered years the Royal International Air Tattoo precedes the Farnborough Airshow so extra participants are usually anticipated. 2014 was no exception with the announcement that the F-35 Lightning might make a European debut at Fairford and then operate from the modern USAF facilities there during its Farnborough demonstrations. Sadly an engine issue prevented this but, such is the density of star performers at RIAT, once confirmed, a star studded and seamless airshow still astounded and entertained the hoardes of visitors.
Memorable attendees included the Boeing E8 Poseidon patrol aircraft and two new F-18 Hornets from the US Navy. There was a very welcome return by the Polish Air Force Su-22 Fitters who accompanied Team Orlik plus a fairly new C27J Spartan from Lithuania. The Italian Air Force was very well represented with an acrobatic display from the G222, Tornados and, of course, the Frecce Tricolori MB339s.
Two major RAF anniversaries were highlighted, the D-day landings were commemorated with invasion stripes on the Typhoon and the 50th Anniversary of the Red Arrows provided an opportunity for a mixed formation to be flown with singletons from each of the major formation teams attending.
The Hellenic Air Force returned with two A7 Corsairs and, once again, the sensational solo Turk F-16 impressed the large crowds. Apart from the expected collection of NATO and European fast jets and transports, exhibits from further afield included a Japan Self-Defence Force Boeing 767 tanker and Hercules from Oman, Algeria and Jordan.
Civilian teams included the Breitling L39s, wing walkers and Jordanian Falcons plus a whole host of warbirds and, of course, the BoBMF.
A real bonus in 2014 was a partial opening on the Friday before the 'big weekend' increasing the public capacity whilst allowing the viewing of late arrivals for the static parks. The usual and highly popular 'park and view' facilities were well attended, particularly on departure day when the weather was bright for a change though partly cloudy. The organisers can, once again, take full credit for a show full of action and variety.
Additional photography by Colin Coulthard