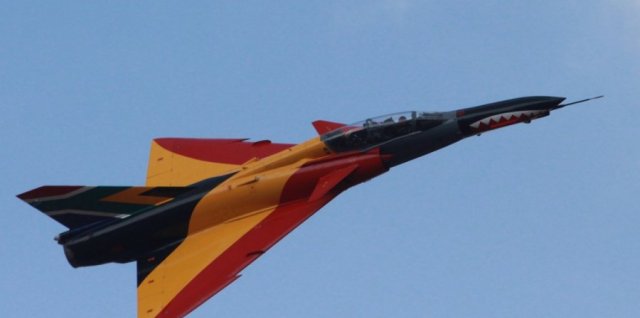 African Aerospace & Defence
17-21 September 2014-10-14
AFB Waterkloof, Pretoria, RSA
This eagerly awaited airshow enjoyed good weather and massed public attendance. Waterkloof is home to the Government flight, the transport and communications squadrons of the South African Air Force. There were concerns that, due to harsh financial conditions in recent years, the military participation would be limited.
However, the Forces component was substantial with the PC-7 display team, no less than six BAe Hawks and three SAAB Gripens on show. Military helicopters also gave a good showing with a war game battle between the runway and parallel taxiway. Although prolonged and noisy this generated enormous clouds of reddish brown dust that drifted through the crowd; a situation that would never be tolerated in Europe.
There was also considerable civilian participation ranging from commercial Boeing 737s to Pitts Specials plus a large number of preserved military types both from the SAAF Museum at Swartkop and from private owners. The civilian warbird community in South Africa is particularly active, swelled by large numbers of Harvard trainers withdrawn from use in the late 1990s.
The static display contained great variety, a homebuilders area, the piston airliners of the Historic Flight plus examples of indigenous expertise, particularly from local manufacturer Denel. Within the large, often underused, hangars was an extensive trade show that seemed out of place on the public days though, no doubt, brought in valuable income and, hopefully, some future business for this very significant nation.
Whilst in the area, opportunities were taken to revisit the larger general aviation airfields around Johannesburg to confirm the healthy growth of business aviation in the region and continued enthusiasm for private flying.
Additional photography by Peter Gregory