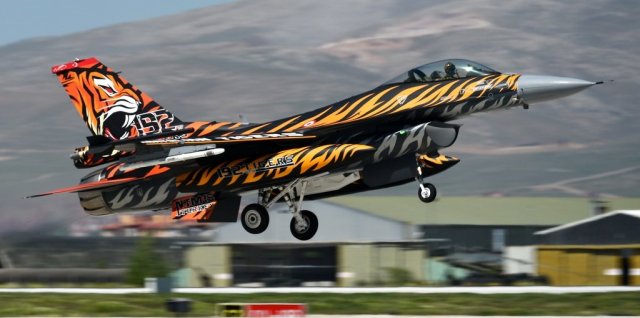 Konya, Turkey, 4-16 May 2015
By Aidan Curley
A favourite event on the calendar of many military aviation photographers is the annual NATO Tiger Meet in which various units having a Tiger in their squadron emblem get together at a different base each year for a flying exercise and to renew old friendships. The long-held tradition of creating stunning special colour schemes makes this event truly special and the organisers are to be congratulated for holding media/photographer days each year allowing great access for photos.
In 2015 it was the turn of 192 Filo from Balikesir AB, Turkey to host the event which in the end was held at Konya AB instead of their home base. Of the 23 Full Member Tiger Units in NATO sadly only 7 units were able to participate this year with many others being involved in other exercises or having operational commitments. However the hospitality and enthusiasm of the Turkish hosts and participants on the 2 access days on 7th/8th May, the excellent photo access, excellent weather (on 7th) and of course the special colour schemes all meant that those who had made the long journey to Konya were not disappointed.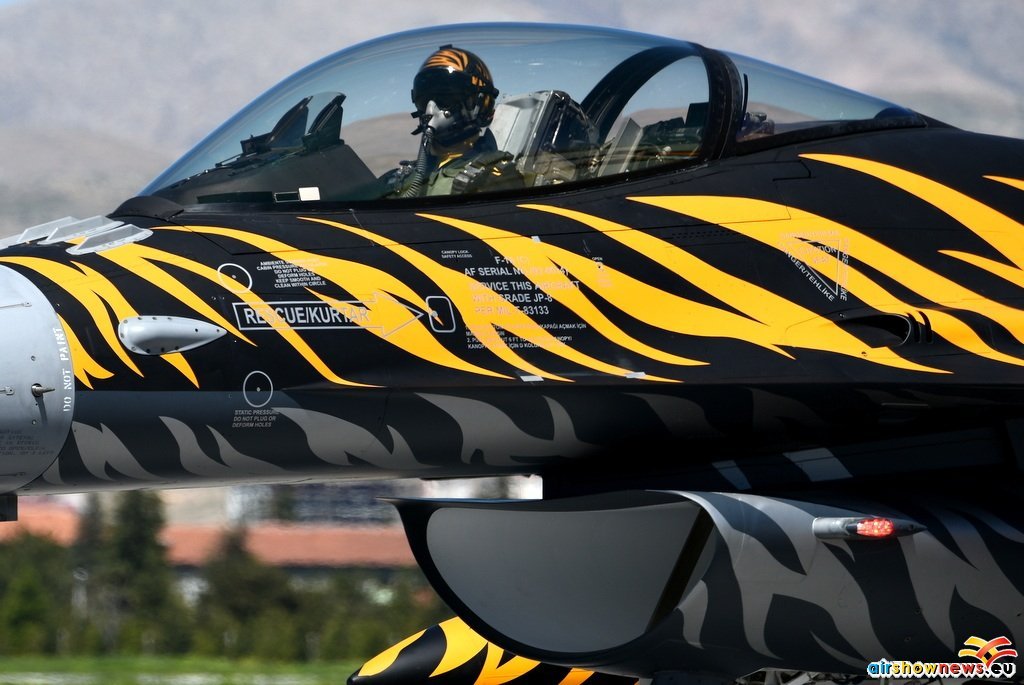 In fact there were several non-Tiger added bonuses this year with resident Boeing E-7 Peace Eagle, Casa 235s and the Turkish Stars flying NF-5s all making themselves available for flying photos plus aerial demonstrations by not one but two different Solo Turk F-16 displays in the morning and then again in the afternoon. A Royal Netherlands Air Force KDC-10 was deployed to provide aerial refuelling for the fighters but the special surprise was the visit by 2 F-4Es of 111 Filo from Eskisehir AB which performed 2 fly-bys and then landed with parachutes before parking for 2 days in the photographer's area.
There were typically 2 missions a day (morning and afternoon) which normally started with the KDC-10 departure followed the E-3 AWACS and the E-7. Then the Tiger Meet fighters would depart followed by a number of based non-Tiger F-16s from 132 Filo who would act as "Red Air" adversaries providing a realistic training environment for the others. On the 8th May sadly the weather turned to heavy rain and the missions were scrubbed but there was still the opportunity to photograph taxying aircraft just before the main rain hit.
Another nice surprise was the appearance of 2 Agusta-Bell 212s flying in formation with one of them containing a human-sized Tiger hanging from the side door, very photogenic! Of note amongst the 192 Filo F-16s were two aircraft with Mission Kills – 92-0005 with a Syrian Mi-17 Kill on 16-Aug-2013 and 91-0008 showing a Syrian MiG-23 Kill on 23-Mar-2013.
Flying Participants (Tiger units):
Turkey 192 Filo, Balikesir AB F-16C/D (8x)
NATO 1 AEW&CS, MOB Geilenkirchen E-3A Sentry (2x)
Poland 6 ELT, Poznan-Krzesiny AB F-16C/D (6x)
Switzerland Staffel 11, Meiringen F/A-18C/D (3x)
France EC 1/7, BA 113 Saint-Dizier Rafale C/B (4x)
France EC 5/330, BA 118 Mont-de-Marsan Rafale C/B (0x) Using EC1/7 aircraft
External Participants:
Netherlands 334 Sqn, Eindhoven KDC-10 (1x)
Turkey 131 Filo, Konya AB F-16C/D (8x)
Other flying aircraft and visitors (non-Tiger Meet related):
Turkey 111 Filo, Eskisehir AB F-4E (2x)
Turkey 131 Filo, Konya AB Boeing E-7 Peace Eagle (1x)
Turkey 134 Filo "Turkish Stars", Konya AB NF-5 (6x)
Turkey 135 Filo, Konya AB CN235 (2x)
Turkey 222 Filo, Erkilet AB C-130E (1x)
The 2016 event is due to be hosted by Ala 15 of the Spanish Air Force at BA Zaragoza between 16-27 May – see you there?