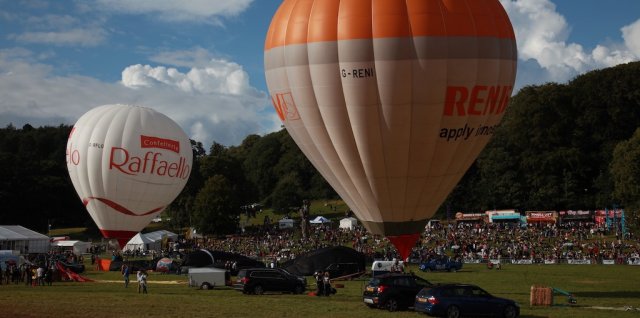 41st Bristol Balloons, August 8-11th 2019. Ashton Court, Avon.
Report by Colin and Sheila Coulthard.
This annual event is the largest Balloon Meet in the United Kingdom; held at the picturesque Ashton Court Estate every year in mid August. Local manufacturer Cameron Balloons is famed worldwide for developing the modern hot-air balloon and creating many of the 'special shapes' that make these events so visually attractive to the public. In contrast to the recently completed French meeting the essential calm weather stayed away with storm force winds over the weekend restricting free flights to a minimum.
This was the second year running in which the weather failed to cooperate. Only one mass ascent happened; a great pity as the natural green amphitheatre at Ashton Court with a great view of balloons drifting north across the city is a spectacular sight compared to flat high ground of Alsace Lorraine or the stark desert landscape of Albuquerque New Mexico, home of the largest American gathering.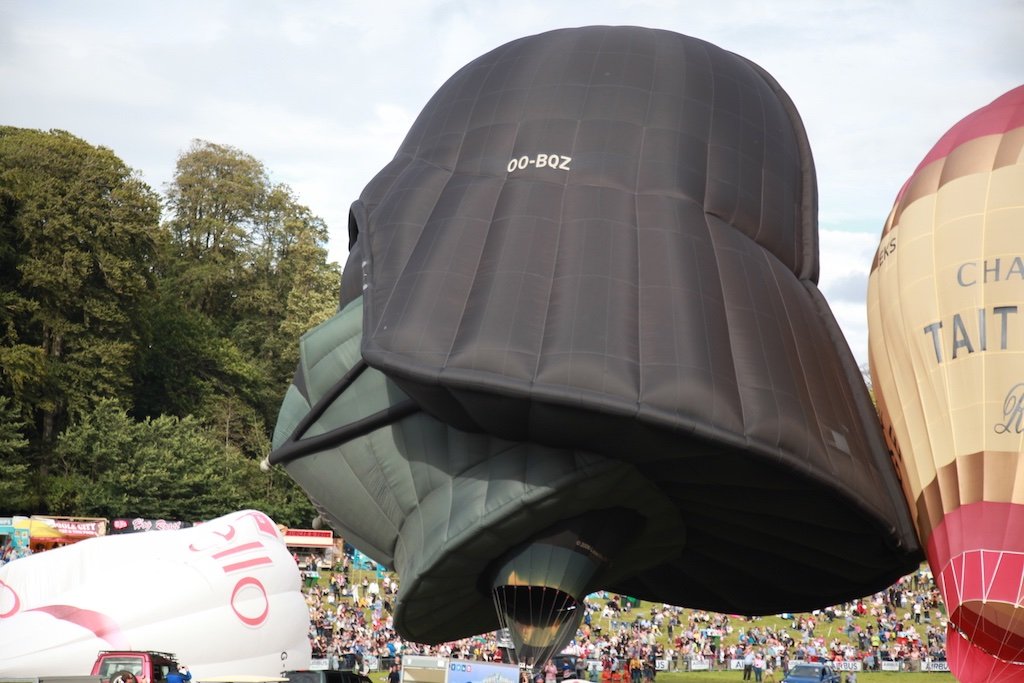 As part of this year's theme, icons of Bristol, Fundsurfer was used to sponsor the 'Darth Vader' special shape balloon. Built in Bristol in 2007 the balloon has travelled the world but never flown over the city. For the first time a Thursday morning mass ascent was arranged and 'Darth Vader' flew over Bristol. This was the only mass ascent of the weekend featuring over 50 balloons.
During the day the  wind started to increase and no ascents were possible in the evening. For the planned night glow the balloon envelopes were not used, a 'naked' night glow using merely the baskets and gas burners provided an atmospheric experience.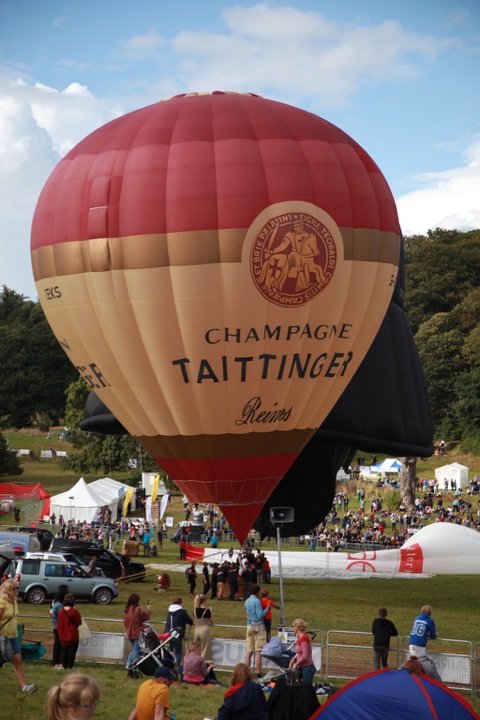 With Friday the rain came in and no flying occurred, Saturday saw gusts of 45mph resulting in the whole site being closed till 10am Sunday.
Finally the wind died down enough for some tethered inflations in the arena and hopes were raised for an ascent in the evening. Unfortunately the weather didn't cooperate and a few tethered inflations was all that was possible. 'Darth Vader' flew again and another Bristol built balloon that has been away, 'OBear', from Taiwan managed to overcome the strong breeze and entertain the crowd.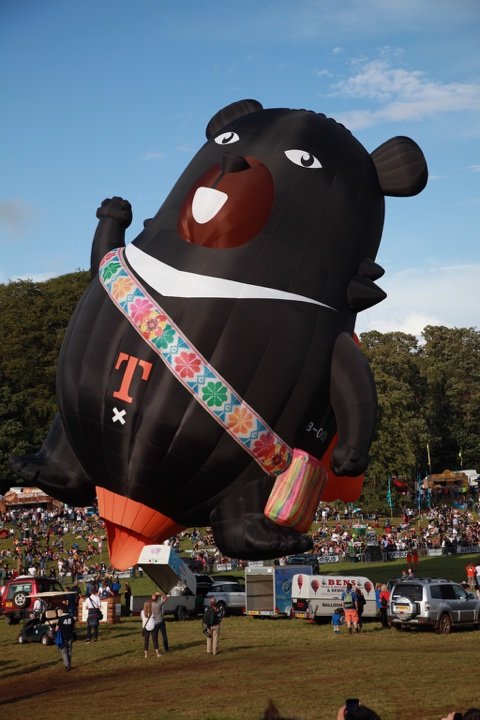 Dates for next year have been confirmed as scheduled for August 6 to 9. No doubt the organisers and enthusiastic population of Bristol and the south west will hope for better weather.