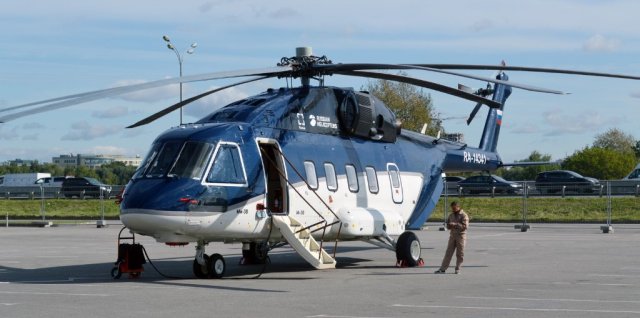 The 13th annual HeliRussia trade fair took place at the Crocus Expo exhibition centre in Moscow on 15th-17th September 2020. Since 2008 the event, which is held under the auspices of Russia's Ministry of Industry and Trade (and has grown into Europe's largest helicopter industry exhibition over a ten-year period), was traditionally held at this venue in May; in 2020, however, the COVID-2019 pandemic has caused it to be postponed until autumn. Fortunately by September the epidemiological situation had improved sufficiently for the event to go ahead as planned. HeliRussia-2020 featured foreign participants from 12 countries, even though some of the traditional participants, such as Leonardo of Italy, chose to stay away for various reasons – mainly due to closed borders.
About 15 aircraft were on display at Crocus Expo. The Russian Helicopters holding company controlling most of Russia's rotary-wing aircraft manufacturers presented a VIP-configured production Mil' Mi-38-2 medium utility helicopter (RA-14341), a brand-new Kamov Ka-32A11BC medium utility helicopter and a Kazan' Helicopters Ansat-GMSU light utility helicopter. The latter two might appear as nothing new, but the devil is in the details. The Ka-32 (RA-31111), which has been delivered to the Moscow Aviation Centre (an organisation affiliated with the Russian Ministry for Civil Aid and Protection, or EMERCOM) for fire-fighting and search and rescue (SAR) duties, has a new "glass cockpit" with four multi-function displays. An SP-32 modular fire-fighting system tailor-made for the Ka-32 and holding 4,000 litres of water was displayed alongside; this is a Russian analogue of the US-made Simplex Fire Attack, which it is meant to replace, and is produced by the same KumAPP factory in Kumertau, Bashkiria, as the helicopter itself. Moreover, Kamov is offering the further upgraded Ka-32A11M, which was displayed in model form; this version will combine the abovesaid "glass cockpit" and SP-32 fire-fighting system with uprated Klimov VK-2500PS-02 engines.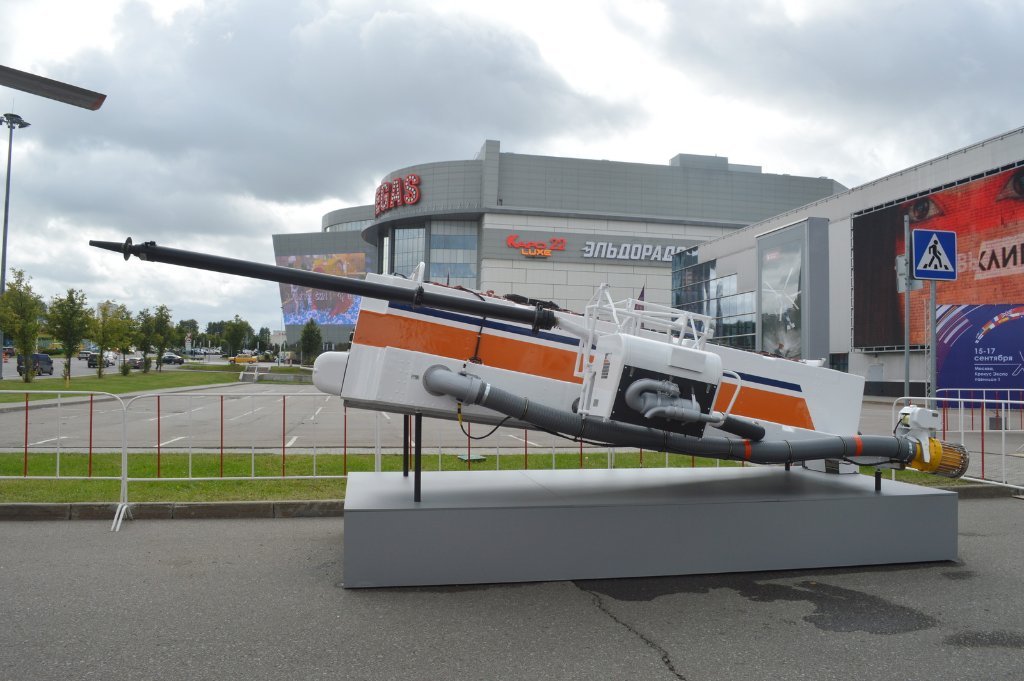 The Ansat, which was serialled "982 Black" and is the first of the type built for China, has been around for a while, participating in Airshow China 2018 and the MAKS-2019 airshow. Now, however, it was displayed with a new MS-A.9520.000 medical module and flotation bags; the flotation gear, which is a new option for the Ansat, has just been certificated in 2020. Another new type of medical module designed for transporting infectious patients completely isolated from the crew has been used by RVS (Russian Helicopter Systems), a major operator of the Ansat which performs air ambulance duties – also in the times of the pandemic.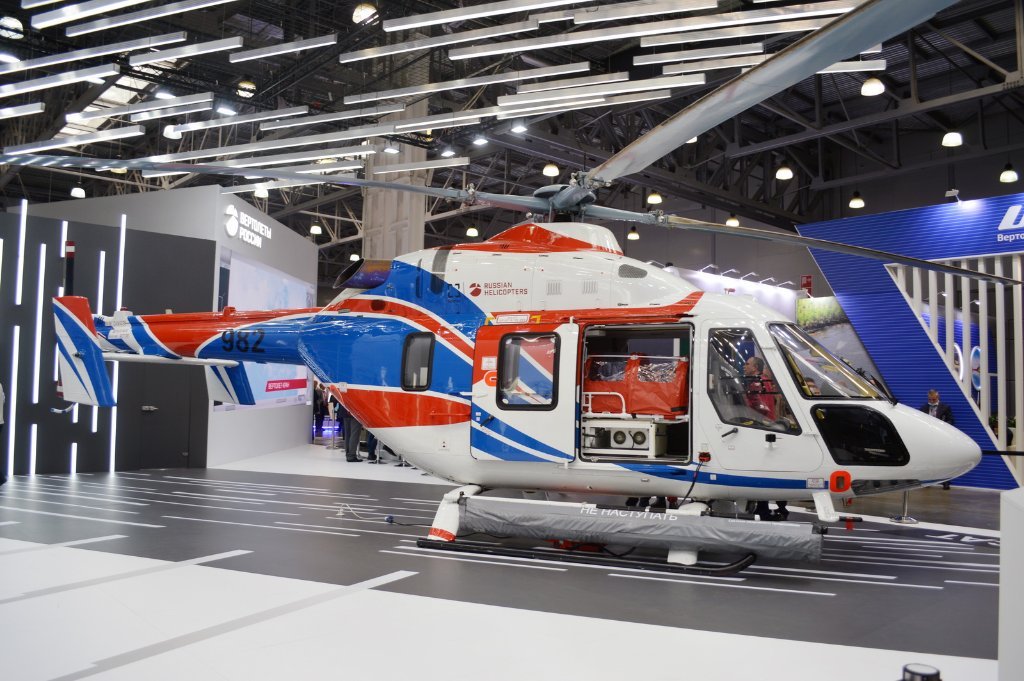 Other changes offered for the Ansat include an auxiliary 192-litre fuel tank extending range by 140-150 km (97-93 miles) to 650 km (403 miles); moreover, from 2021 onwards the capacity of the main fuel tanks will be enlarged, giving a maximum range of 750 km (466 miles). There are plans to equip the helicopter with an optional cargo hoist for SAR operations and cargo hook for carrying slung loads.
The Moscow-based Borisfen Joint-Stock Co., an MRO and supply company known for its imports of Ukrainian-made aero engines which could not be supplied directly to Russian customers due to political restrictions, presented the Scout light helicopter – again. This is in fact a vintage Mi-2U trainer helicopter reengined with relatively modern 430-eshp Ivchenko AI-450M-B turboshafts – just like it Ukrainian "twin brother", the Mi-2MSB – and refitted with a "glass cockpit". The machine in question, RA-15768, has been around for several years and so far is the sole example upgraded in Russia, but Borisfen and the Moscow Aircraft Repair Plant (MARZ) hope for upgrade orders.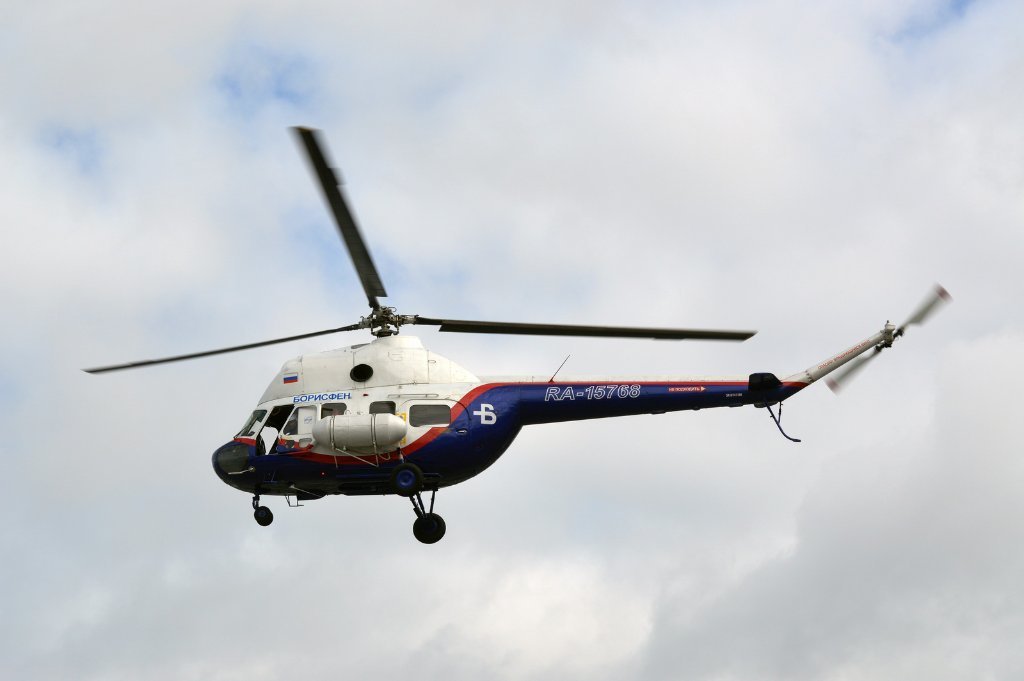 Bell Helicopter Textron, a regular participant of the show, was the only foreign helicopter manufacturer represented at HeliRussia-2020, showing a Russian-registered example of the Bell 505 Jet Ranger X, which the company is marketing in the CIS. Generally western-made light helicopters, which are usually present in force at HeliRussia, were surprisingly few this time – just a couple of Robinson R-66s (one of which was an R-66 Marine but sans flotation gear), a Eurocopter EC130T2 and an "old but gold" Eurocopter (MBB) Bö 105S CBS-4 belonging to private owners.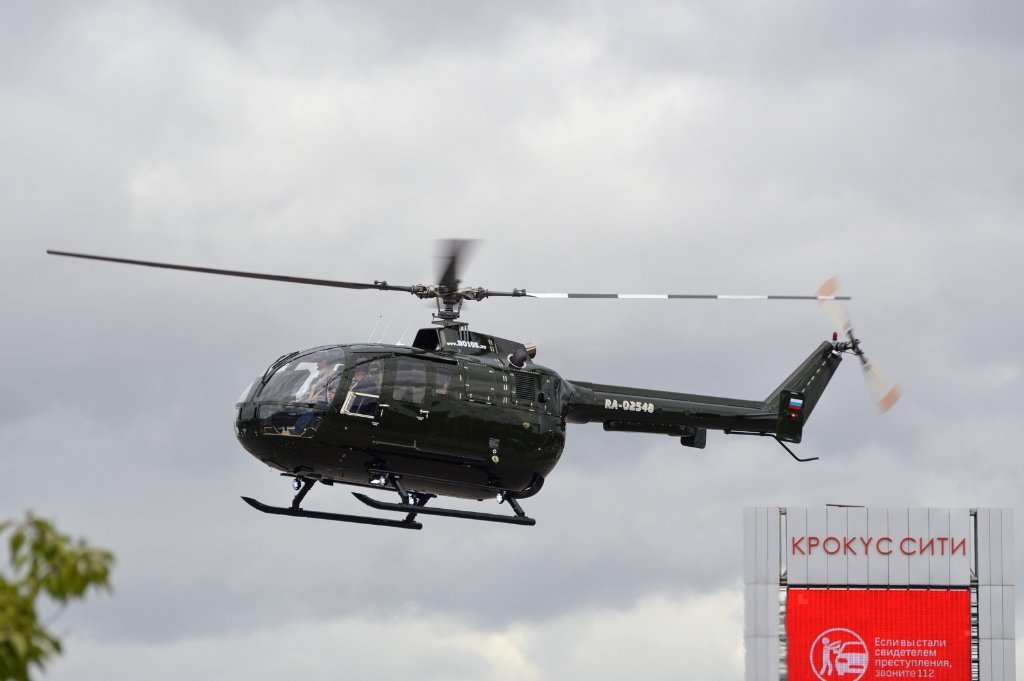 Small private enterprises also made a contribution. RD-Heli presented the Mikron-3 single-seat light helicopter utilising the coaxial layout; this is an improved version of the original Mikron which has flown successfully for quite a while. A company pretentiously titled Agan Aircraft Industries was there with the already familiar Kosatka (= Orca) light helicopter, a heavily modified 1950s-vintage Sikorsky S-52, which has now been restyled as the KW-505 (KW stands for Killer Whale). In a surprise move, Agan Aircraft Industries also brought two fixed-wing light aircraft to the show – the tricycle-gear GN-155 Cruze and the incomplete prototype of the Bush 505SL, a taildragger "bush plane" with outsize low-pressure wheels designed for rough runways.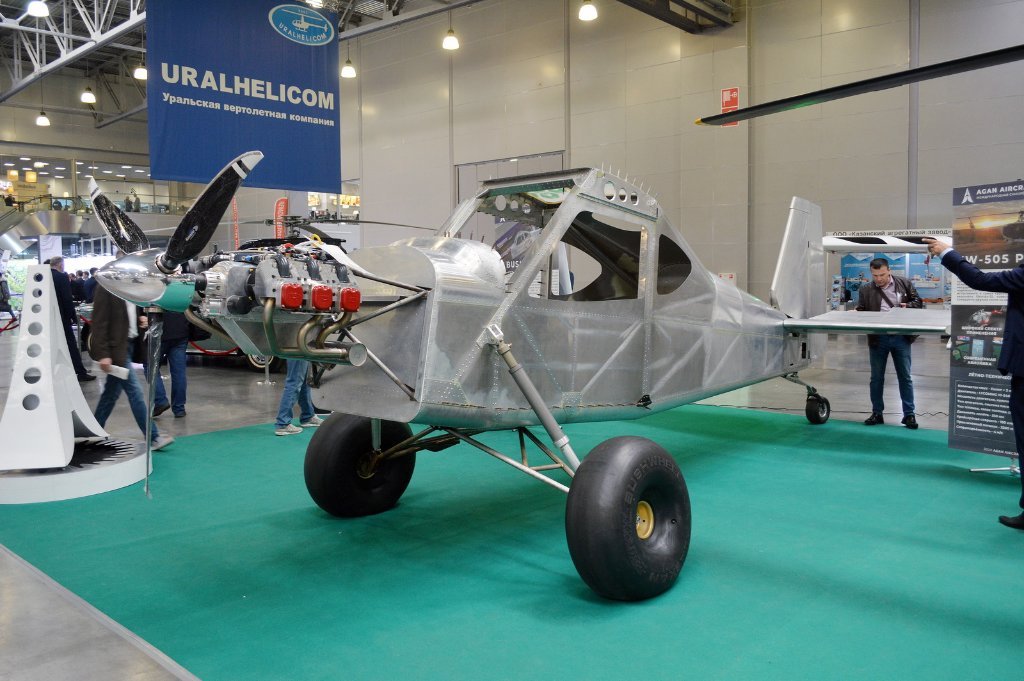 An interesting wind tunnel model was seen at the Moscow Aviation Institute's display stand. It represented an unconventional tailless aircraft with parabolic wings whose wide-chord root sections housed large ducted fans. The latter could be aligned with the wing chord, generating lift for vertical take-off/landing, or swivel through 90° for forward propulsion.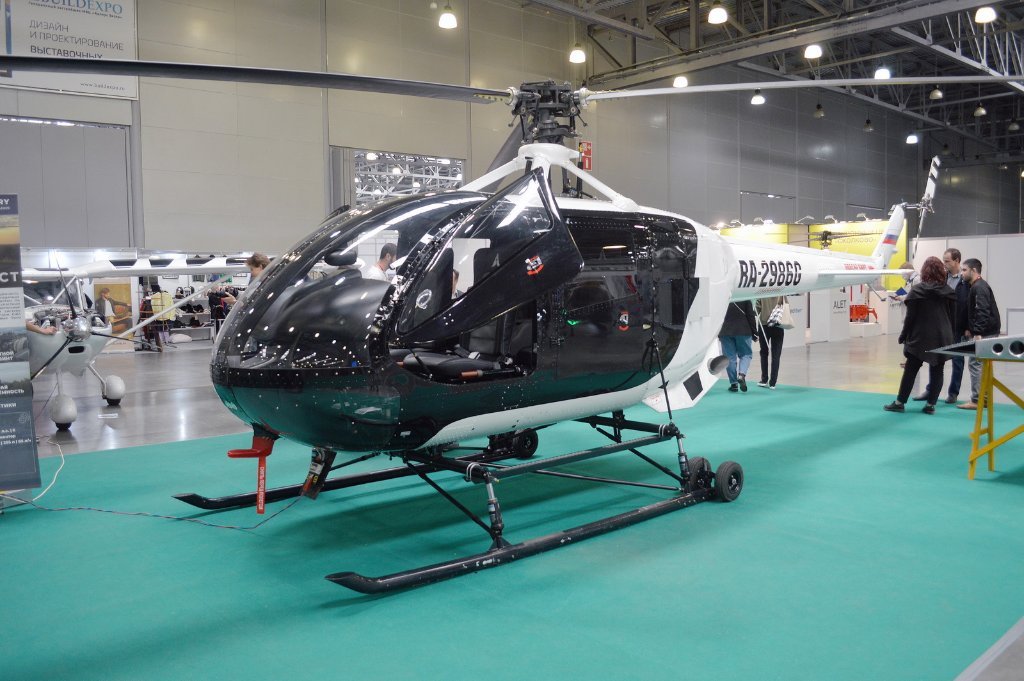 Unmanned aerial systems figured prominently at HeliRussia-2020. In particular, the well-known defence contractor Kalashnikov Concern presented a whole range of surveillance UAVs (of both multi-copter and "flying wing" layout) under the common name ZALA 421. An obscure Moscow-based company called Aviatsionnyyye Vspomogatel'nyye Sistemy (Aviation Auxiliary Systems) is promoting a range of vertical take-off unmanned aerial vehicles (VTUAVs) under the SmartHeli brand. Provisionally known as "Framer", they share a conventional single-rotor layout and gross at 350-900 kg (770-1,980 lb). The two smallest versions were displayed in hardware form, featuring reconnaissance systems developed in house. The streamlined SmartHeli-350 carried a Portret (Portrait) phased-array side-looking airborne radar and an Ivolga (= Golden Oriole) gyrostabilised optoelectronic "ball turret", while the 400-kg (880-lb) SmartHeli-400 VTUAV with a faceted fuselage was equipped with a larger Kolibri-LWIR (= Hummingbird) gyrostabilised infrared/optical surveillance system. Another company called Russian Drones brought an unusual quadcopter designated Sea Drone-MG which was previously displayed at the Army-2020 forum. The thing, which is designed for shipboard operations, features a hybrid powerplant (a two-cylinder petrol engine driving a generator to feed the four electric motors) and has a waterproof body which allows it to alight on the sea surface in order to "look" underwater – and even dive briefly to a depth of 1 m (3 ft), if the manufacturer's claim holds true. The 5-kg (11-lb) payload may be a video camera, a radar or a magnetic anomaly detector.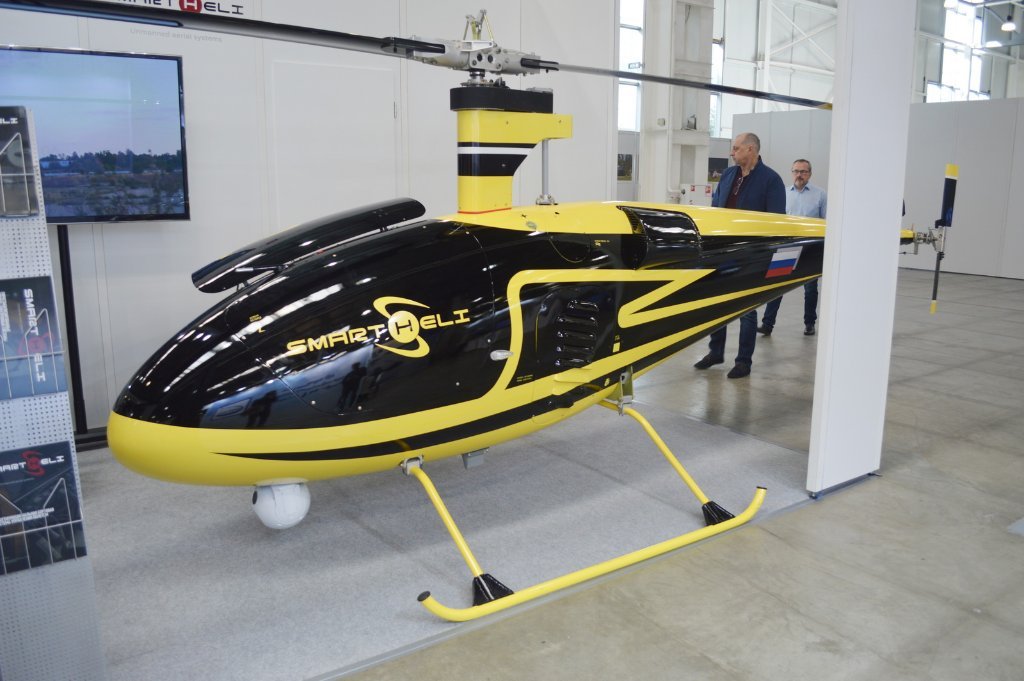 Helicopter engines were not left out either. "Import substitution" is the catchword today; indigenous alternatives are being actively developed for western components which might be embargoed as the anti-Russian sanctions get worse, and powerplants are accorded high priority in this context. Russia's United Engine Corporation (UEC, or ODK in Russian), whose Klimov subsidiary is already developing the 800-eshp VK-800V turboshaft for the Ansat as a replacement for the Pratt & Whitney Canada PW-207H, has announced the smaller 650-eshp VK-650V turboshaft which will power the Ka-226 light utility helicopter as a replacement for the current US and French engines.
HeliRussia has now jumped on the environmental bandwagon too, and "green" powerplants received due attention at the 2020 show. For example, the Russian company Aeroelektromash is offering electric motors as propulsion for light aircraft (including autogyros and helicopters); a 25-kW (34-hp) VD-25000 motor driving a three-blade propeller was on show at the company's stand. Moreover, ODK has launched an R&D programme to develop hybrid powerplants for helicopters. Speaking at a press conference at HeliRussia-2020, Mikhail Shemet (Vice-Director of ODK's hybrid powerplant programme) said that such engines might be developed for the existing VR-Technology VRT-500 VTUAV and projected VRT-500 commercial light utility helicopter – and possibly even for the Ansat, adding that the latter type might fly with a hybrid powerplant in 2026. A low-powered demonstrator of such a powerplant is currently under development at ODK, he added. Shemet said that a helicopter with a hybrid powerplant might be designed to dispense with the usual power train but this is a problem from a weight standpoint because of the limitations imposed by the current state of the art in electric motor design. Therefore, the first step will likely be a "mild" hybrid with an electric motor and battery guaranteeing a safe emergency landing if the turboshaft fails, he said. Shemet named future high-speed helicopters as a primary application for hybrid powerplants.