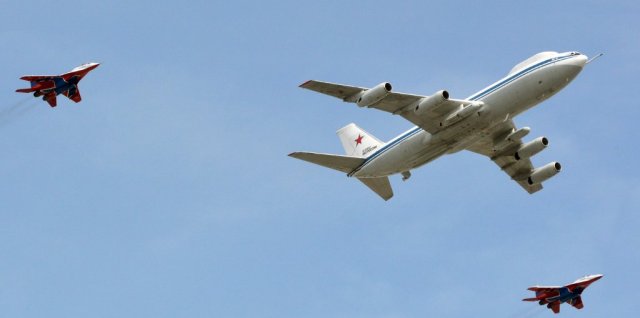 It is now a well-established tradition that the annual 9th May military parade held in Moscow's Red Square to celebrate the anniversary of the Soviet Union's victory in the Great Patriotic War against Nazi Germany includes an aviation component. The first such flypast was in 1995, but since 2005 it has become annual – weather permitting, of course. In recent years the number of participating aircraft equals the number of years that have passed since the war; this year, the 77th anniversary Victory Day flypast was to include 77 assorted aircraft – 15 helicopters and 62 fixed-wing aircraft.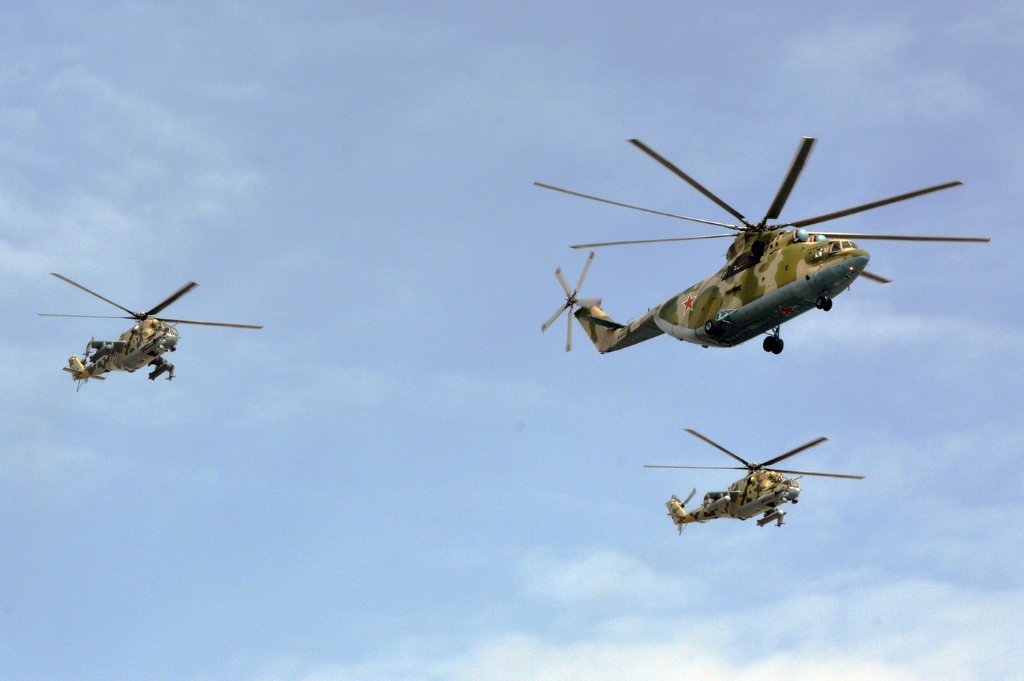 The rotary-wing formation was led by a Mil' Mi-26 heavy transport helicopter – this time escorted by a pair of Mi-24P gunship helicopters rather than the usual Mi-8s. Vic 2 consisted of three Kamov Ka-52 Alligator attack helicopters; Vic 3 featured a dual-control Mi-28UB attack helicopter (with mast-mounted radar) leading a pair of regular Mi-28Ns. Vic 4 was a trio of Mi-8AMTSh transport/assault helicopters, while Vic 5 consisted of a further three Mi-24Ps.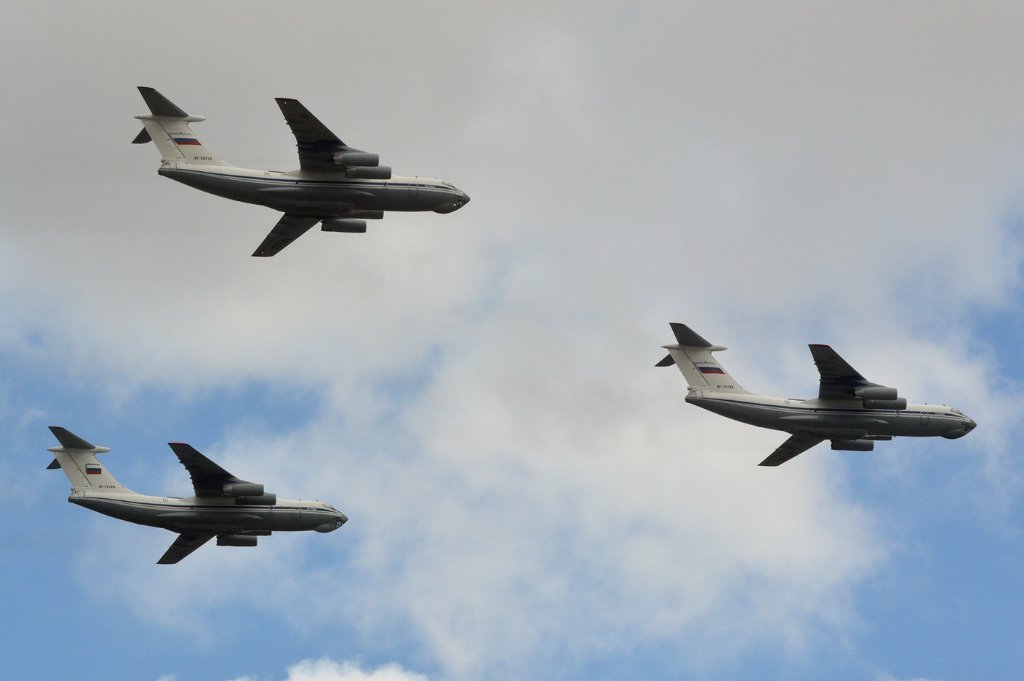 The fixed-wing component was led by three Il'yushin Il-76MD transports. Next came an Il-78 convertible tanker/transport flanked by a single-seat Mikoyan MiG-29 (izdeliye 9.13) and a MiG-29UB trainer from the Russian Aerospace Force's Strizhi (Swifts) display team.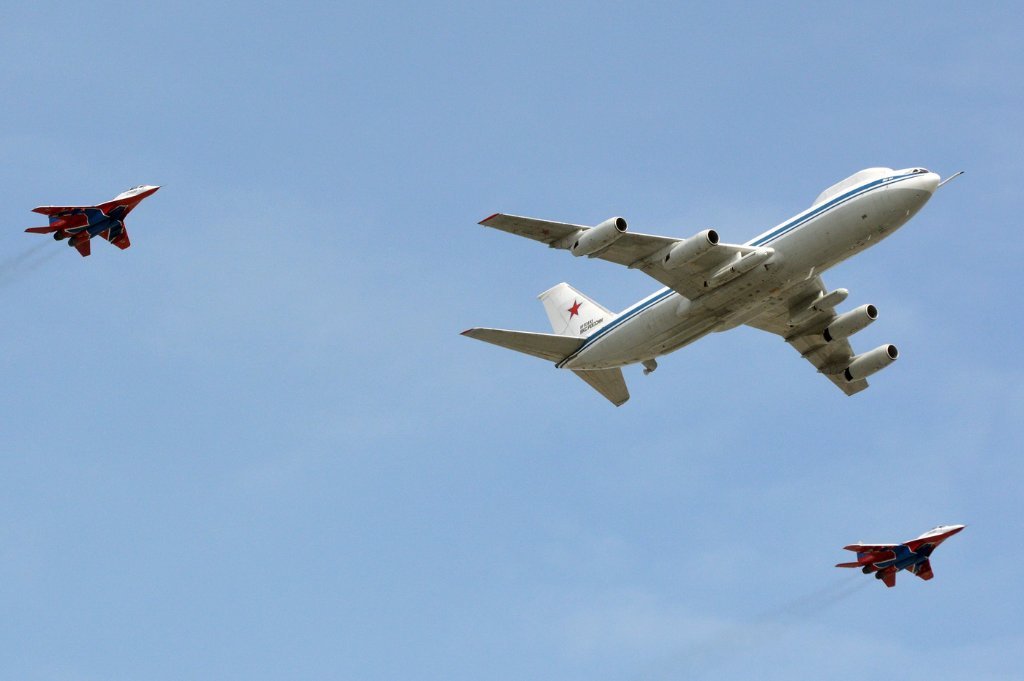 A most welcome highlight followed in the form of the Il-80 national emergency airborne command post ('doomsday aircraft') with identical escort. The type is rarely seen in public and had hitherto participated in the Victory Day parade only once (in 2010).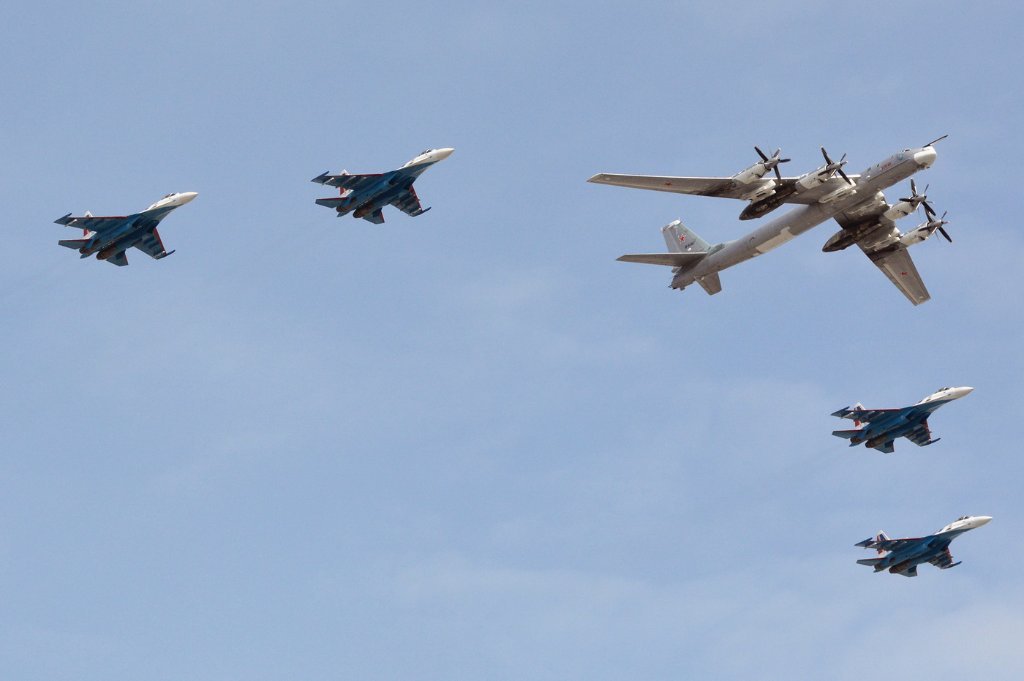 More heavy stuff came next as a Tupolev Tu-95MS missile strike aircraft (upgraded with eight underwing missile racks) came in, escorted by four Sukhoi Su-35S fighters in the livery of the Russian Aerospace Force's other display team, Roosskiye Vityazi (Russian Knights). The strategic strike theme was continued by a trio of Tu-22M3 heavy bombers. Next, for a change, came four MiG-31I strike aircraft in echelon starboard formation toting Kinzhal hypersonic air-to-surface missiles.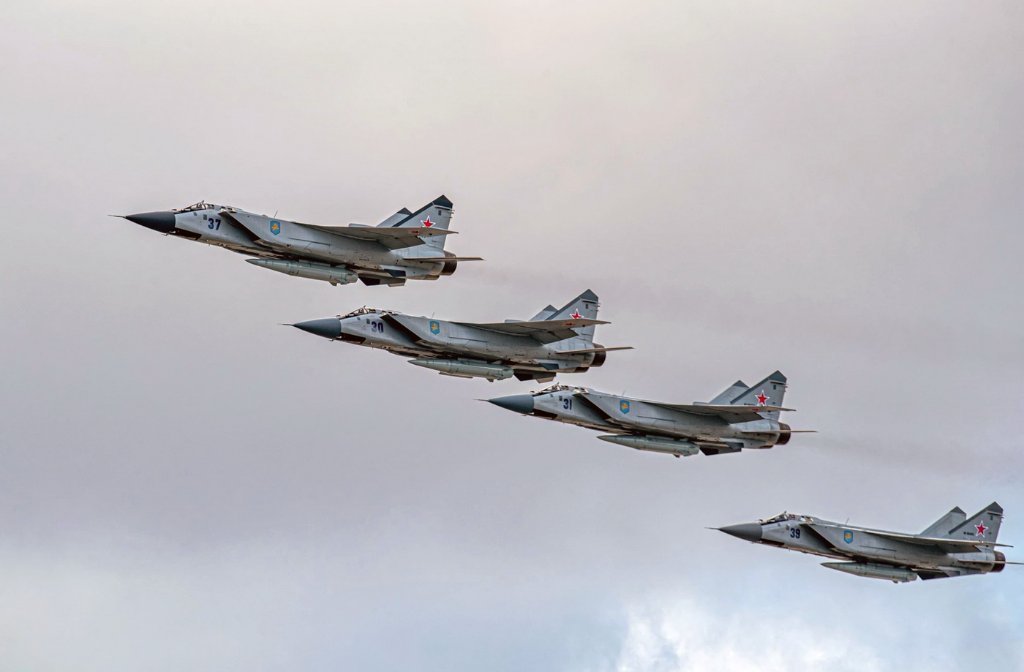 The next item was a simulated refuelling formation, with an Il-78M dedicated tanker leading a Tu-160M strategic missile strike aircraft flanked by two pairs of MiG-31BM interceptors. Tactical jets followed again in the form of a Su-24M bomber leading three Su-24MR reconnaissance aircraft, a further four MiG-31BMs and four Su-57 fifth-generation fighters (the latter emitting their signature high-pitched screech as they approached). These were followed by a formation of eight MiG-29s (six MiG-29SMT(R) single-seaters and two MiG-29UB/MiG-29UBT trainers). The final two elements of the flypast were traditional: the so-called 'Kubinka Diamond' (a diamond-nine mixed formation of the two teams from Kubinka AB – five Su-30SM two-seat fighters from Roosskiye Vityazi and four MiG-29s from Strizhi) and six modified Su-25 attack aircraft trailing smoke in Russian flag colours.
As usual, the practice sessions for the parade started a month ahead of the event. Initially they proceeded at the Alabino troop practice range west of Moscow, which has a 'parade ground' matching the size of Red Square; the marching troops and vehicles started first, the aviation component joining in on 18th April. The participating aircraft gathered from far and wide, reaching the designated rendezvous point immediately before the flypast; some of them had temporarily redeployed to airbases around Moscow (Kubinka and Chkalovskaya), others flew in from their home bases.
Later the action shifted to Moscow, with the first practice flypast over Red Square and the dress rehearsal traditionally taking place on 4th May and 7th May respectively. The aviation-only practice on 4th May was sorely incomplete, as a sudden downpour meant that the helicopters were unable to take off from Kubinka in time to reach the rendezvous. The dress rehearsal, on the other hand, went ahead as planned. Yet, on the big day the spectators were in for a disappointment: the flypast due for 1100 hrs was cancelled at the last moment when the weather on the approaches to Moscow turned sour.