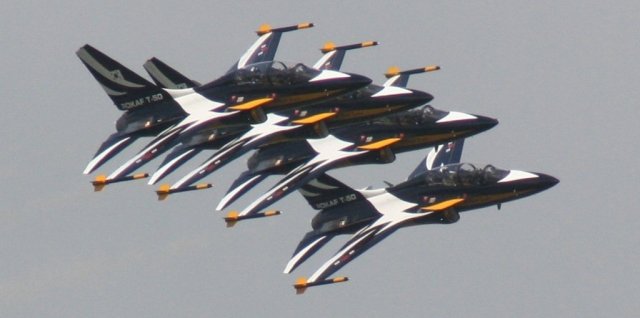 RAF Fairford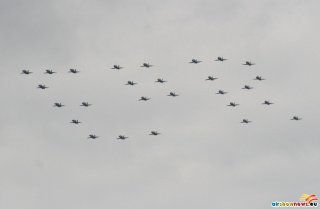 This years Air Tattoo will be remembered first for the wet weather though this failed to spoil the event for thousands. The aircraft component was possibly the best for many year following lots of intense effort from the organisers.
Highlights were the first appearance at a western airshow by the Japanese military with a KC767 tanker and two display teams on first visits to the UK; the South Korean Black Eagles with their T-50s, airfreighted in by 747s, and the Macchi MB339s of Al Fursan from the Emirates. Of the two the Koreans were the more innovative with continuous action and tight choreography.
Other 'specials' this year were the welcome return of the B2 Spirit, MiG-29s from Poland and Slovakia and a Mi-14 Haze from the Polish Navy. Special Colours were in evidence; F16s fresh from the Tiger Meet in Norway, German Tornados with a Phanthom and a spectacular C130H Hercules from the Colombian Air Force making a national debut – even better, it carried a Lancair trainer making good use of the 'Airlift' theme for this year. Both the Haze and a German Navy SeaKing wore attractive colours.
The Royal Jubilee was celebrated with a re-run of the EIIR formation of Hawks that graced Windsor Castle earlier this year. An additional treat was the demonstration of the US Marine Corps Osprey tilt-rotor; four examples being in country for the Farnborough display the following week. another shared exhibit was a rand new A400M which was formally christened 'atlas' in RAF service at the event.
The Red Arrows and Patrouille Swiss performed with their usual flair plus the Breitling L39s who look more professional every time I see theme. The Jordanian Falcons added some propeller whine to the proceedings as did a number of liaison and training types. The Vulcan and low level passes by DHL Boeing freighters were the icing on the cake.
All in all a fantastic show despite the elements, there seems to be no limit to the enthusiasm of the organisers nor the staying power of their adoring public.