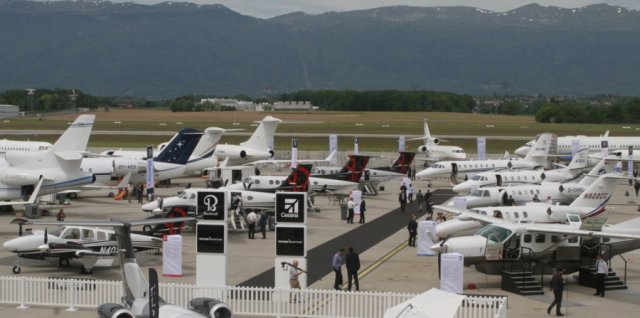 This was the 14th EBACE exhibition now well established as Europe's showcase for Business Aviation and only second to the NBAA Convention in the USA in the worldwide calendar. So successful has EBACE become that some manufacturers now shy away from the broader tradeshows in favour of this specialise event. This year saw some rearrangement of the indoor exhibition spaces but still sported a full static display of the current types on offer.
The biggest change was the incorporation of the Cessna range into the Beechcraft portfolio bringing together the two main players from Wichita Kansas; no doubt this will have local labour ramifications as economies are made and type ranges are rationalised though, in general, their current models are complimentary rather than in direct competition. One can only speculate on the future of the Beechjet 400 and Hawker 4000 models.
Although the small and medium size sector has been fairly restrained since 2007 the ultra large sector continues to grow; Gulfstream and Bombardier have concentrated on increased range as their future focus for this decade pushing non-stop range up to 7500nm. Dassault Falcon also enjoy great success with their tri-jet models following the launch of the 5X in Las Vegas last year and the success of the 7X they are now pushing the stretched 8X. Their concentration is their ability to operate from smaller fields rather than adding range; taking their clients closer to their destination and adding multiple city opportunities. It remains to be seen if there is room for these three giants in the future market but current orders suggest there is room for all in this sector.
The smaller players were also making news with Pilatus announcing orders for their PC-24 and good prospects for turboprops, particularly the PC-12 and Kingair range. Plans for a supersonic business jet also show the most likely product should the technology bear fruit for this dramatic increase in speed.