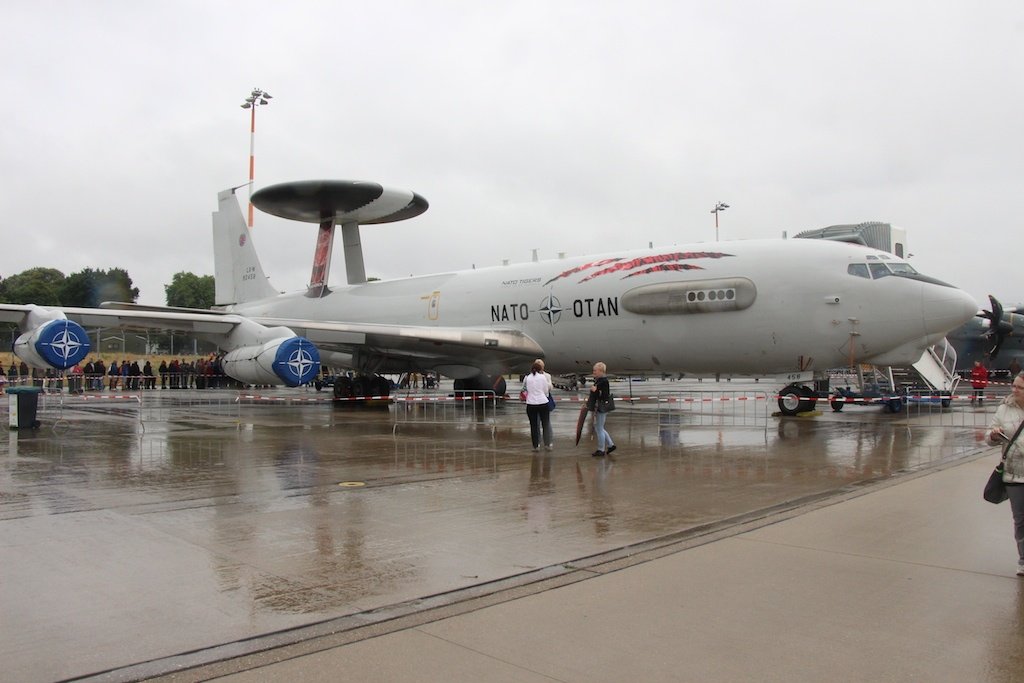 35th Anniversary event, Geilenkirchen Air Base, Germany, 1 – 2 July 2017
Report by Peter Davison
The NATO joint base at Geilenkirchen is home to the NATO fleet of Boeing E-3A Sentry AWACS squadron that is shared by all the member states and provides Command, Control and active radar cover for NATO operations within strict guidelines in many theatres. This was a rare opportunity to witness their operational family of nations in one place. Although attracting numerous participants there was no flying display; the runway playing host to four of the eighteen based E-3s.
Before covering the highly interesting attendees mention should be made of the poor weather, particularly on Saturday and the chaotic entry process for visitors; no doubt made worse by the essential extra searches and security resulting from recent events across Europe. It is impressive that visitors accepted without complaint waits of up to four hours in their cars followed by long walks and queues for body searches. Before running another event the organisers should attend RIAT in the UK who have mastered the art of tight security and massed traffic management. They should be commended for not cancelling this eagerly awaited show.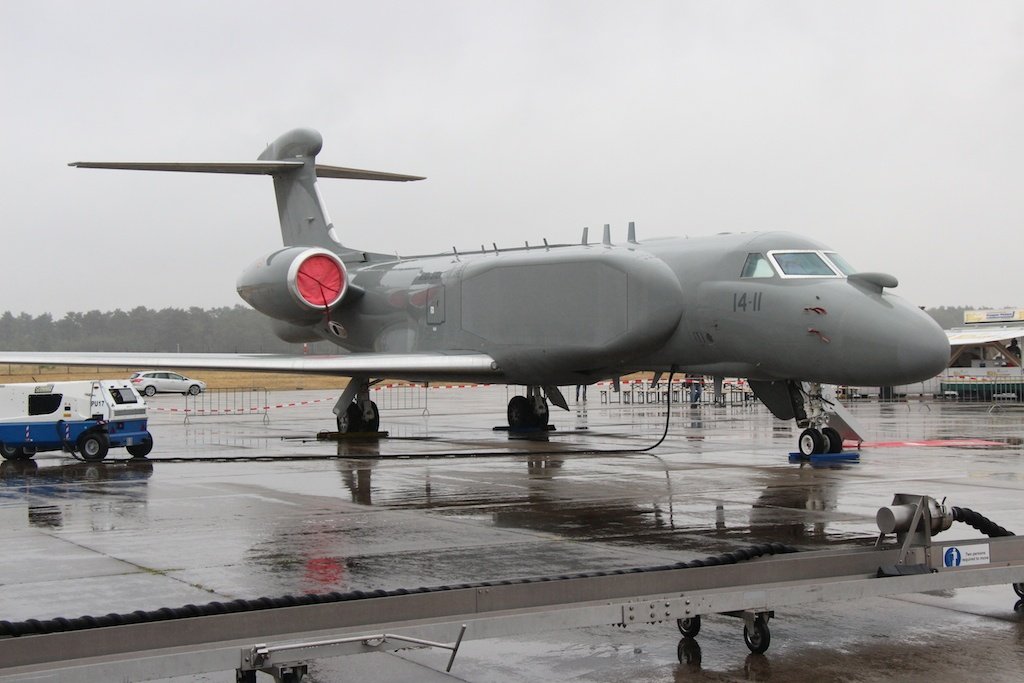 The star attraction for experts was undoubtedly the newly delivered Grumman Gulfstream 550AEW from the Italian Air Force; covered in lumps and bumps and looking splendid, even in the grey weather. The two Italian Typhoons from Trapani's 37 Stormo were also of interest.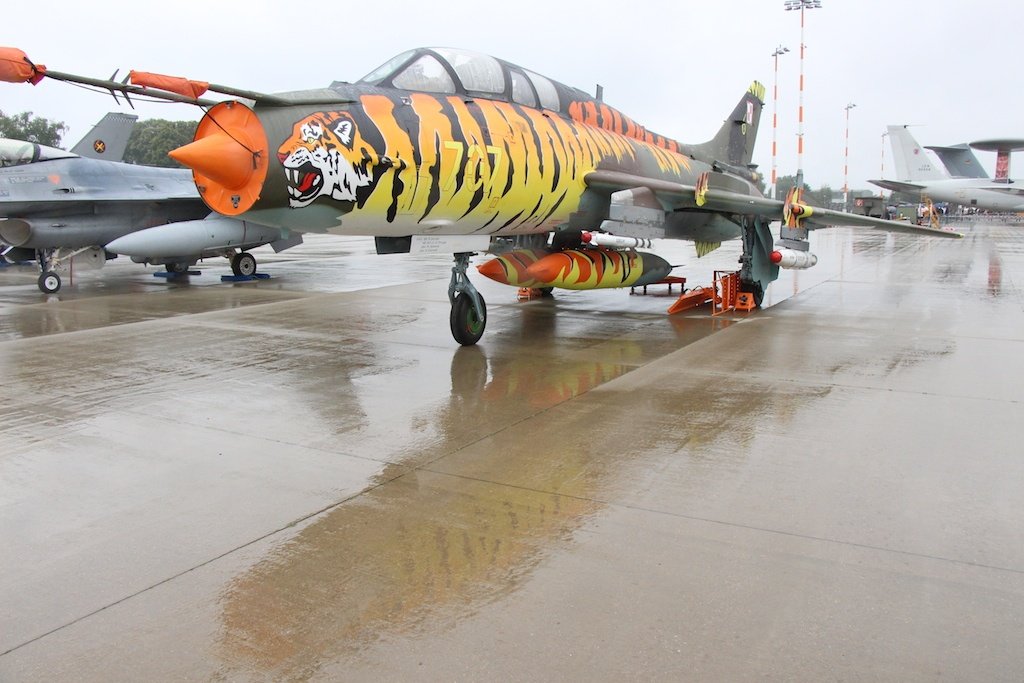 A Tiger squadron area showcased a few related items that did not attend the recent meet in Brittany, the Polish Fitter resplendent in an appropriate livery. These are slated for retirement though two Greek F-4 Phanthoms proved that operations are still possible even after their front-line withdrawal.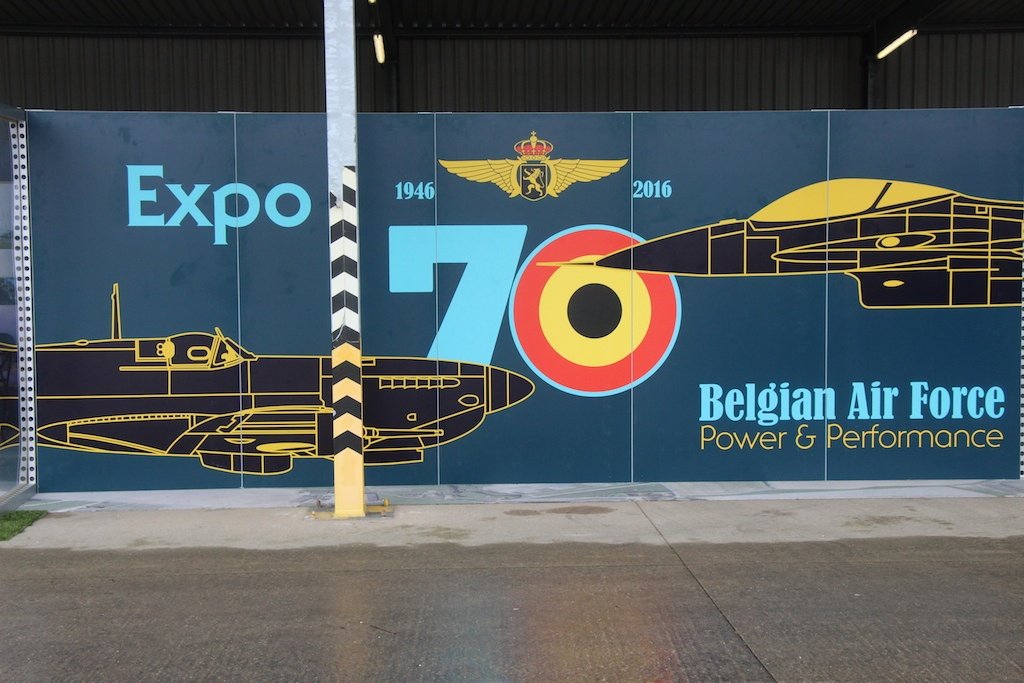 A very welcome display, mounted indoors and therefore providing welcome shelter, was the Belgian Air Force Expo display. This museum standard exhibition on demountable display boards, told the story of the Air Force since its creation and clearly described the variety of career opportunities and functions of a modern force. Used as a recruitment tool this sets a standard rarely seen at flying events and should stimulate other nations to invest in such an exhibit.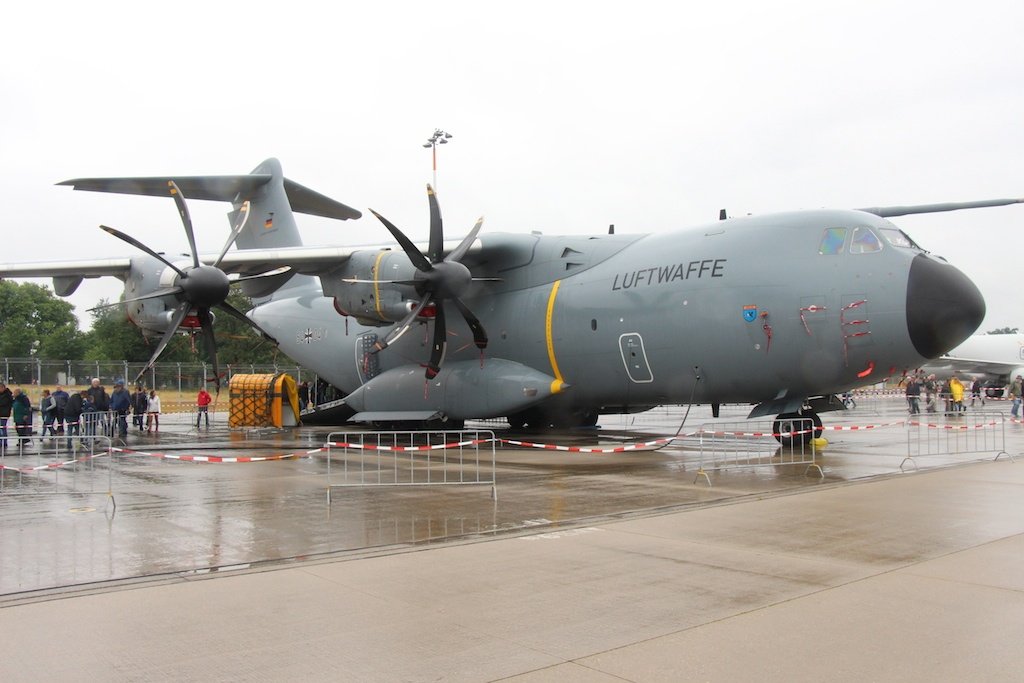 Heavylift coverage was impressive with a Luftwaffe A400M and P3 Orion on show plus a vintage KC135 and Wyoming Air National Guard C130 showing the flag for the USA. It was good to see a variety of support types in addition the the usual fast jets and some interesting displays ranging from flying models and simulators to fitting out a Boeing 727 airliner as a domestic home. Cheaper to maintain than an ocean yacht!
Providing photographers were happy with almost monochrome images with wet reflections some unusual views could be captured. Hopefully both the photo opportunities and access arrangements improved on the slightly brighter Sunday.