Arrivals Day 8 July 2011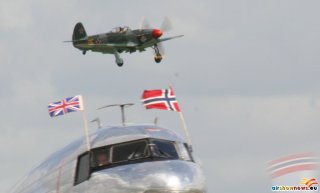 The famous Flying Legends weekend needs no introduction, each year brings together a host of warbird fanatics and their machines.
This year the star visitors were a pair of Mustangs, new to Europe, and an Australian P-40 restoration. The P-38 Lightning N25Y was also present after previous efforts in other years had kept the Duxford crowd eager to see her. French warbirds were also well represented.
As usual, the treasures of the Imperial War Museum and Duxford Aviation Society were on view for what looked like a stunning weekend of partly cloudy skies and good company.
Long may this vital occasion grace the UK airshow calendar.
Sadly, the event was marred on Sunday by the airborne collision of a French Skyraider and P-51 'Big Beautiful Doll' now operated in Germany.
Thankfully both pilots are safe but the Mustang was written off. The Skyraider landed safely missing a large section of its starboard wing. Considering the low altitude it is highly commendable that there were no serious casualties.