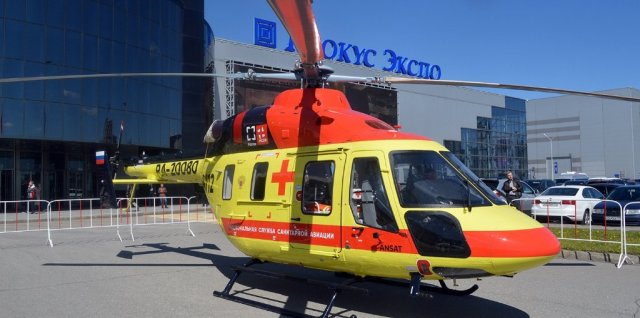 The annual HeliRussia trade fair, which is held under the auspices of Russia's Ministry of Industry and Trade, took place at the Crocus Expo exhibition centre in Moscow on 19th-21st May 2022 for the 15th time – a minor jubilee. In better days the event, which is traditionally held at this venue, was billed as Europe's largest helicopter industry exhibition; however, HeliRussia-2022 was held on an unusually modest scale, occupying just one hall instead of the normal two. While the COVID-2019 pandemic is on the retreat, due to political developments all major foreign participants chose to stay away. Of the 108 participants only seven were non-Russian, and none of these were helicopter manufacturers.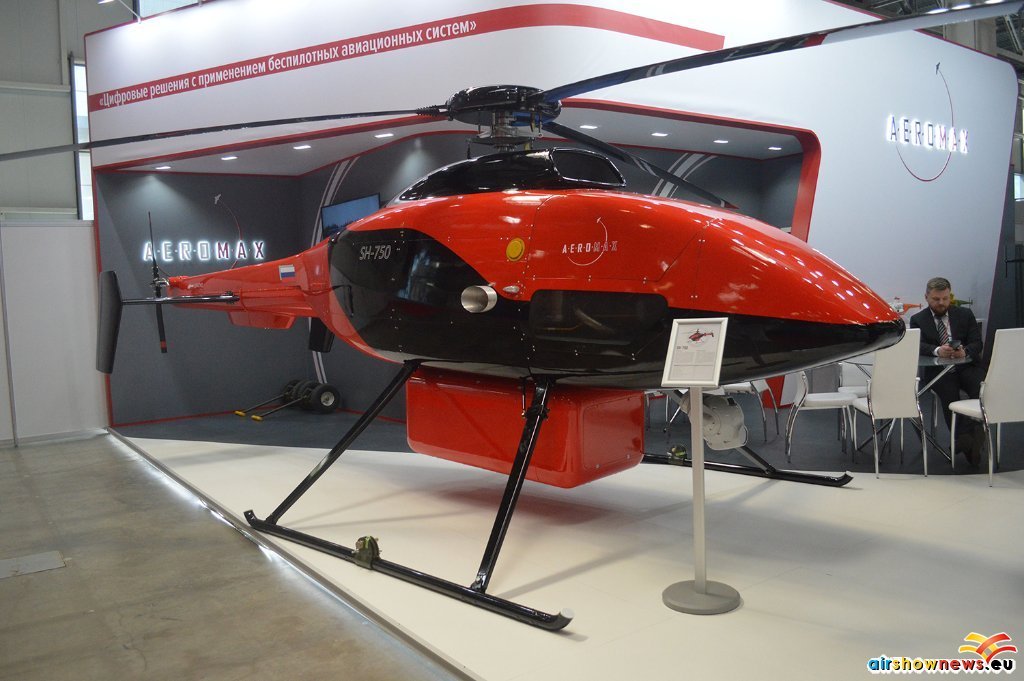 20 helicopters and vertical take-off unmanned aerial vehicles (VTUAVs) were on display at Crocus Expo. The Russian Helicopters holding company controlling most of Russia's rotary-wing aircraft manufacturers advertised all of its current commercial product range. Its display stand featured the Kazan' Helicopters Ansat Aurus Design with the out-of-sequence registration RA-20103 – a VIP-configured production Ansat-GMSU light utility helicopter. A brand-new Ansat-SK (an update of the baseline Ansat-GMSU) in aeromedical configuration (RA-20080) – the latest addition to the fleet of the National Air Ambulance Service – was parked outside. The Russian Helicopters stand also featured two BAS-200 drones – the first prototype registered EW-X074-U and a new example coded '393 Black'. The BAS-200, which debuted at the MAKS-2021 airshow last July, is a conventional single-rotor VTUAV with a 200-kg (440-lb) take-off weight (hence the designation; BAS = bespeelotnaya aviatsionnaya sistema – unmanned aerial system), a 50-kg (110-lb) payload and an endurance of four hours. Three prototypes are currently undergoing certification tests, and Russian Helicopters aim for certification by the end of the year; the BAS-200 has both military and civil applications, and the Russian Postal Service is taking an interest in it.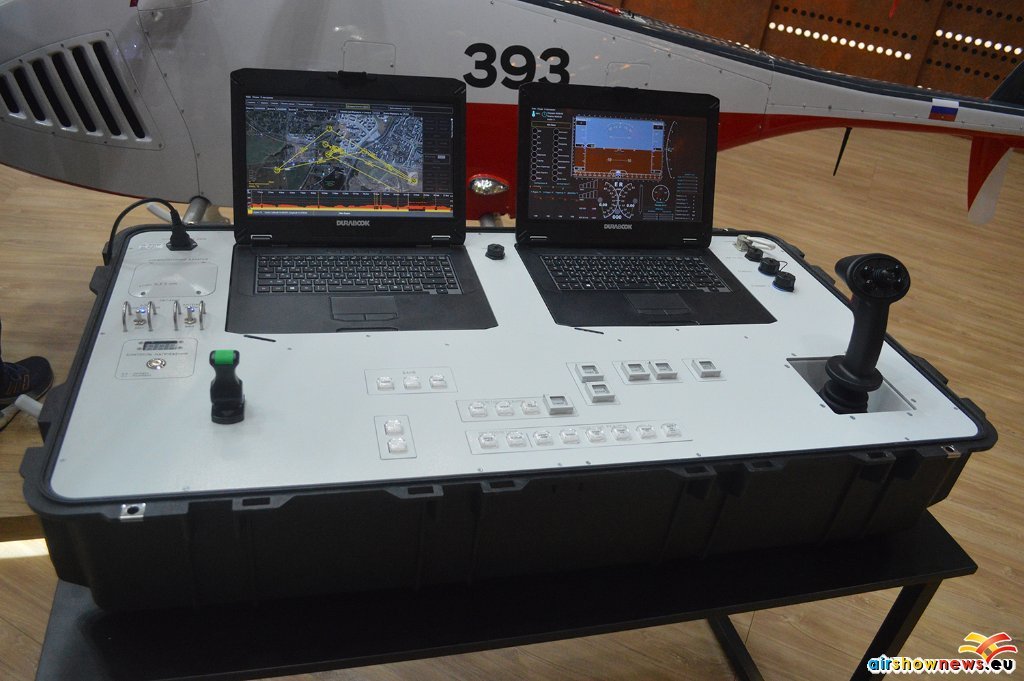 While we are on the subject of full-size manned helicopters, the majority of these at HeliRussia-2022 were western light helicopters – four Robinson R44s (two of which were up for sale via Uralhelicom), one Robinson R66 Turbine and one Eurocopter AS350 B3. The latter was presented by CitiCopter, a maintenance, repair and overhaul (MRO) company with eight service centres in eastern, southern and western Russia. The Moscow-based Borisfen Joint-Stock Co., another MRO and supply company known for its imports of Ukrainian aero engines which cannot be supplied directly to Russian customers due to political restrictions, once again presented the Ivchenko AI-450M turboshaft, the Motor-Sich MS-500V-S turboprop (sans propeller) – and the familiar Scout light helicopter prototype. The Scout, a Mil' Mi-2 reengined with AI-450M-Bs, was advertised in various versions (passenger/utility, agricultural, aeromedical, SAR, patrol etc.). Conversely, the Rosoboroneksport (= Russian Defence Export) agency, which had a stand at the show, displayed the Mil' Mi-8AMTSh transport/assault helicopter and the Mi-28N and Kamov Ka-52 attack helicopters in model and on-screen presentation form only.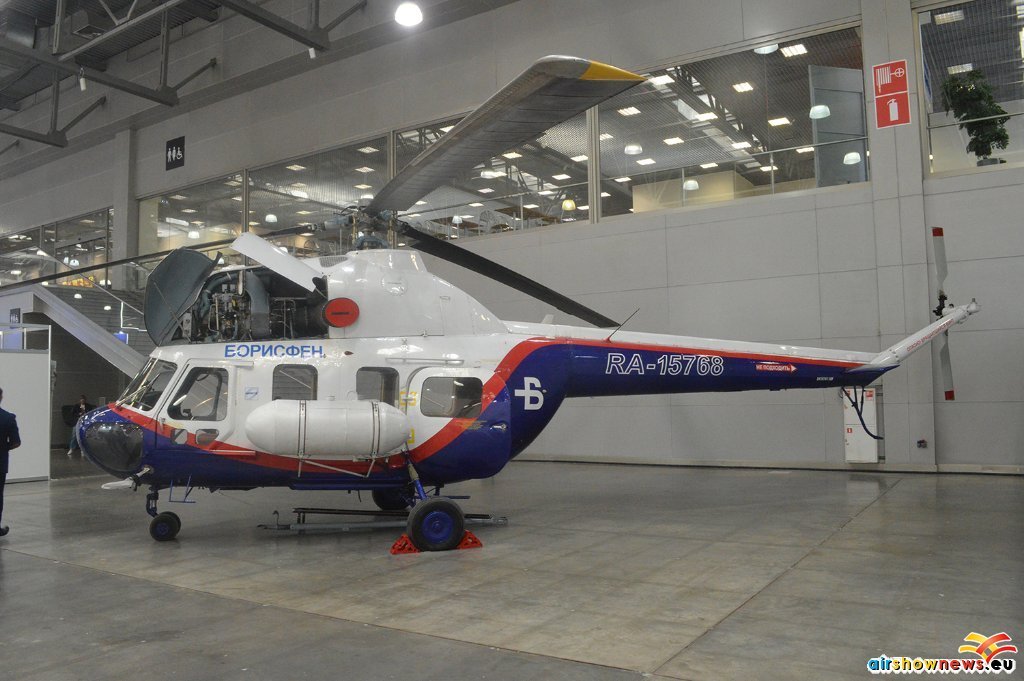 Speaking of engines, Russia's United Engine Corporation (UEC, or ODK in Russian) displayed the 650-eshp Klimov VK-650V turboshaft for the Ka-226 light utility helicopter and the 1,600-eshp VK-1600V turboshaft for the Ka-62 medium utility helicopter as a replacement for the two types' current French engines which are no longer available. In keeping with the current "green" trend, the ODK stand also featured a mock-up of a hybrid powerplant for a heavy quadcopter or convertiplane comprising a turboshaft-driven generator and four electric motors driving propellers. Aeroelektromash, another Russian company offering electric motors as propulsion for light aircraft, autogyros and helicopters (including as well as other equipment for helicopters, such as optoelectronic systems and cargo hoists), was also present.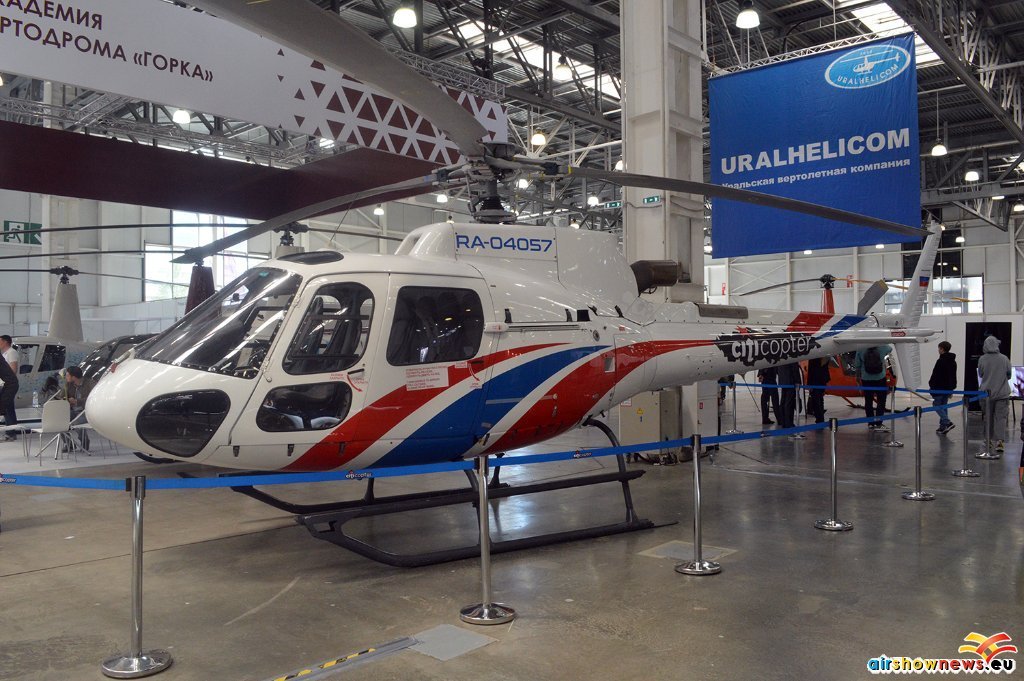 Coming back to unmanned aerial systems, these figured prominently at the show. In particular, the defence contractor Kalashnikov Concern was offering its well-known ZALA 421 range of surveillance UAVs (of both multi-copter and "flying wing" layout) for civilian applications, such as security patrol, ecological monitoring, power line/pipeline survey and photo mapping. The Moscow-based Aeromax company (a subdivision of the investment holding company AFK Sistema), has apparently taken over the product range of Aviatsionnyye Vspomogatel'nyye Sistemy (Aviation Auxiliary Systems); at Crocus-Expo it presented a range of single-rotor VTUAVs under the same SmartHeli brand, which it is developing further with larger and heavier designs. The 450-kg (990-lb) SH-450, which has been around since 2021, was displayed in hardware form with a cargo pod attached, together with scale models in SAR, fire-fighting and crop-spraying configurations. So was the prototype of the brand-new SH-750 which debuted at HeliRussia-2022. The 750-kg (1,650-lb) VTUAV powered by a Russian APD-110/120 flat-four piston engine has recently begun ground tests and is expected to fly soon; it will lug a 300-kg (660-lb) payload, fly at 200 km/h (124 mph) and have a range of 600 km (372 miles). The latest 3-ton (6,610-lb) SH-3000, which was unveiled in model form, is still at the project stage and the powerplant is as-yet undefined; the UAV, which has a 1-ton (2,205-lb) payload, will have interchangeable cargo or equipment pods for various missions and is expected to fly in 2023, with service entry in 2024. An affiliated company called Nixdrone showcased its D80 and D135 "droneports" (docking stations) for DJI Mavic/Phantom small industrial multicopters and DJI Matrice 210/300 large industrial multicopters respectively, looking like metal "breadboxes" which can enclose the drone while the latter is recharging.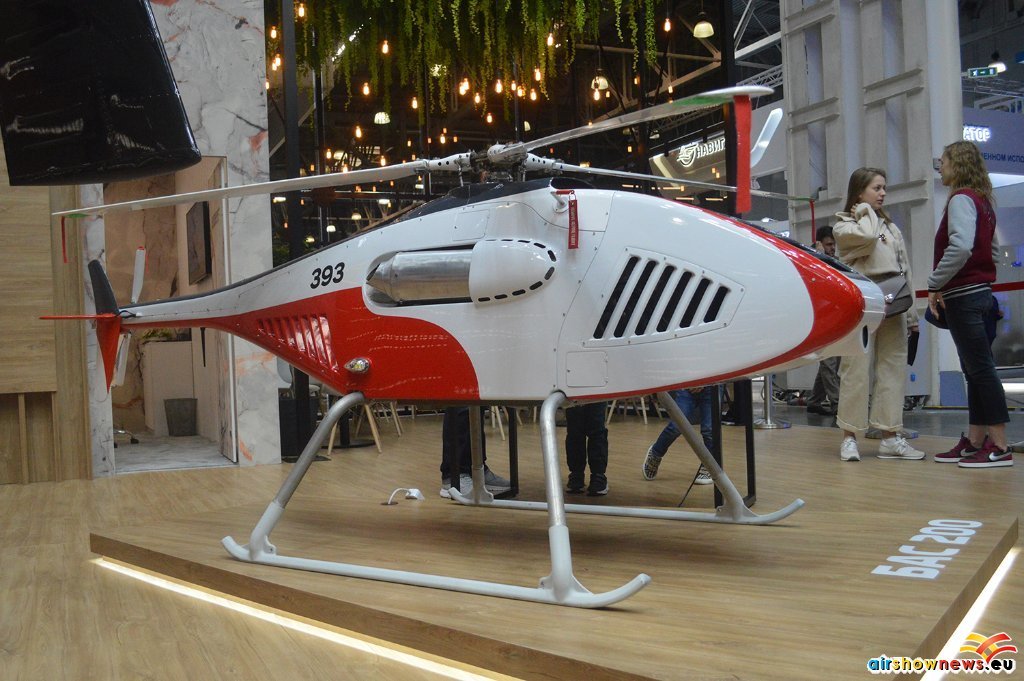 Other UAS manufacturers were also present, including SkyStream with the Sea Drone quadcopter capable of operating over (and even from) water, Aerodyne with a selection of free-flying and tethered drones, and Robolyot (= "robot flyer") with the R1 cargo drone featuring four ducted fans. An obscure Russian company called Wasp Aircraft, which is a resident of the Skolkovo Innovation Centre ("Russia's Silicone Valley"), promoted a project of a highly unconventional convertiplane. Designated Wasp 500, it is a mid-wing monoplane with either a conventional tail or a twin-fin tail unit (featuring swept fins in both cases) and a retractable tricycle landing gear, the mainwheels stowing in pylon-mounted pods flanking the fuselage. A two-blade rotor is mounted on a tall and thick tubular mast just aft of the cockpit, generating lift for take-off/landing; it is driven by tip-mounted pulse detonation engines drawing air via an intake at the top of the mast. In vertical lift mode the wings pivot nose-up, minimising the resistance to the rotor downwash. As the thing transitions to forward flight, the rotor mast tilts forward through 90° to fold into a recess dividing the cockpit in two so that the rotor becomes a tractor propeller; the wings pivot back into normal position at the same time. The project envisages both a two-seat manned version and a VTUAV with the cockpit transformed into cargo bays. The Wasp 500 is advertised to have a 300-kg (660-lb) normal payload, a cruising speed of 470 km/h (292 mph), a top speed of 500 km/h (310 mph) and a range of 3,000 km (1,863 miles).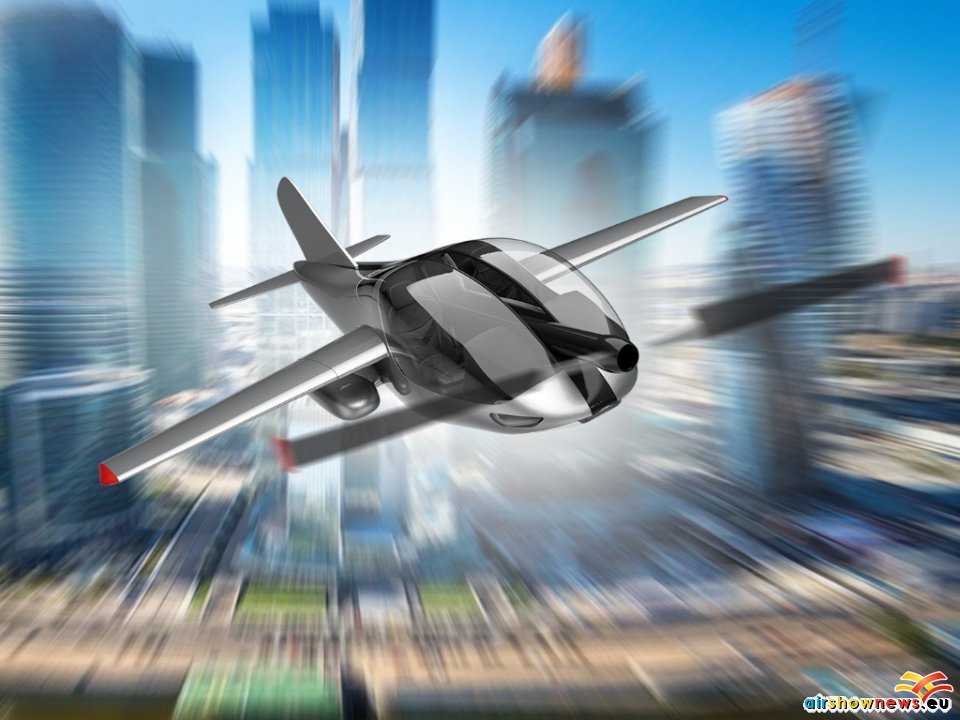 Another Skolkovo resident, the Nizhniy Novgorod-based Clevercopter company (this hails right back to SmartHeli), presented a more conventional but more realistic hybrid VTUAV called Airmedic. This is basically a shoulder-wing light aircraft of pod-and-boom design with conventional tail surfaces and a fixed tricycle landing gear. The internal combustion cruise engine sits on top of the wing leading edge, driving a tractor propeller; it is augmented by eight electric motors with small props mounted in pairs at the tips of two wing-mounted booms parallel to the fuselage to provide lift for VTOL. The recently flown demonstrator on show has a 5-hp single-cylinder engine, but the real thing will be larger and with a bigger engine. As the name implies, the Airmedic is to deliver critical medical supplies quickly to remote locations. The larger all-electric Airmedic A1 model with a skid landing gear and a pusher propeller at the rear of the pod-like fuselage is designed for medical evacuation.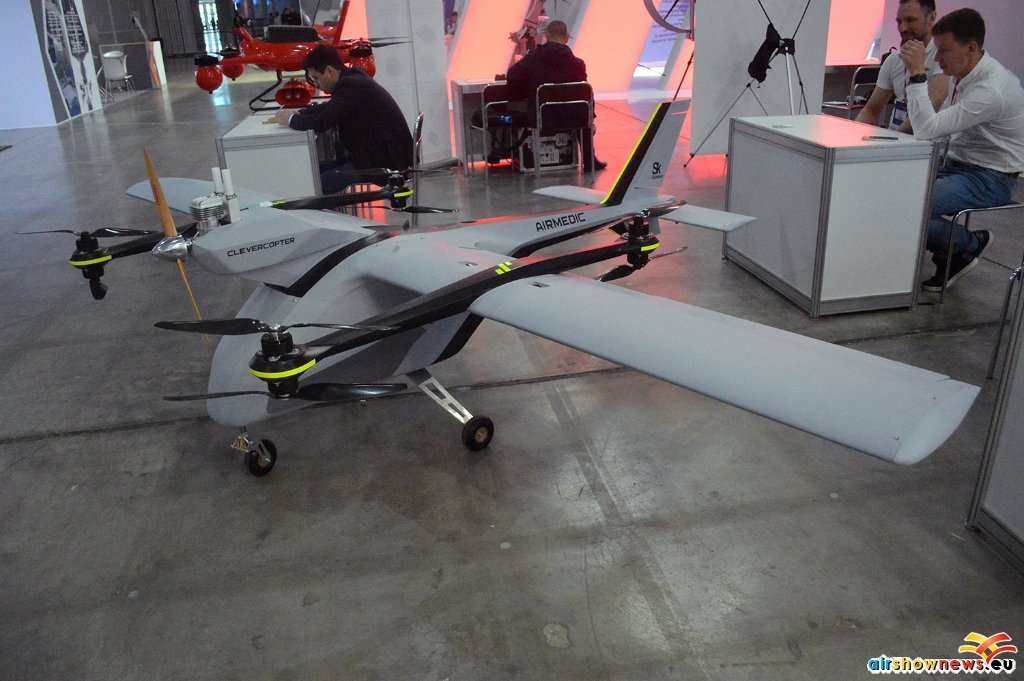 Apart from this, HeliRussia-2022 featured avionics and equipment manufacturers. These included the Radio-Electronic Technologies Concern (KRET) with navigation and targeting systems; Kontur-NIIRS with airborne and ground radars; Navigator JSC with ground-based radio navigation and instrument landing systems; Schwabe (despite the German-sounding name, this is a Russian company) and NII Ekran with defensive avionics for helicopters, and a selection of optoelectronic systems from Aeromax. NPO Pribor, the Ufa Instrument Design Bureau, the Ramenskoye Instrument Plant and the Ul'yanovsk Instrument Manufacturing Association presented just what their names imply – flight and navigation instruments. NPP Zvezda, a company best known for its ejection seats and in-flight refuelling systems, displayed crashworthy seats and pilot gear for commercial helicopters. Helicopter operators present at the show included UTair Helicopter Services, RVS (Russian Helicopter Systems) and Tulpar Avia.